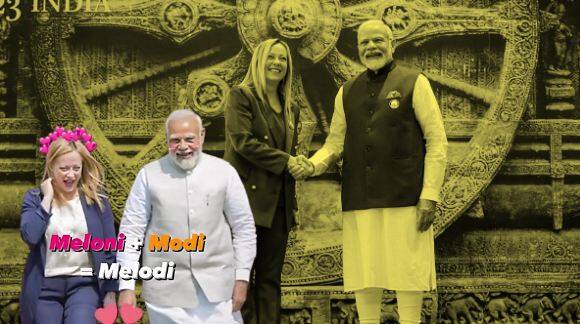 India played an excellent host at the recently concluded G20 summit. It was just a few days after the event that PM Narendra Modi was ranked again the most popular leader in the world. The event laced with opulence won many fans, even many world leaders. But now, social media has found exuberance from the G20 summit, as trolls and memes are rife among Indian users for the camaraderie shared by Italian PM Giorgia Meloni and India's own Narendra Modi.
Right from Meloni's 'awe' look at PM Modi to their exchanges on Twitter is fodder for memes. While the Australian PM Anthony Norman Albanese shared a warm embrace with PM Modi during the G20 summit, all eyes went to Meloni as she was seen simply fixated her eyes on Modi, gracing a tender smile on her face. Memes call Modi and Meloni's rapport as the newfound love that sprouted in the G20 summit.
September 17th was PM Modi's birthday, and Indian memers never waited for anything in recent times as for Meloni's tweet wishing PM Modi. The camaraderie between the two has erupted in memes on social media bases. Some of these have garnered more than a million views.
Alike Modi. Meloni is also a staunch right-wing politician in Italy who recently rose to power after the resignation of Mario Draghi amidst a government crisis and a general election. Giorgia is married to journalist Andrea Giambruno, who is working for Silvio Berlusconi's Mediaset Television channel.