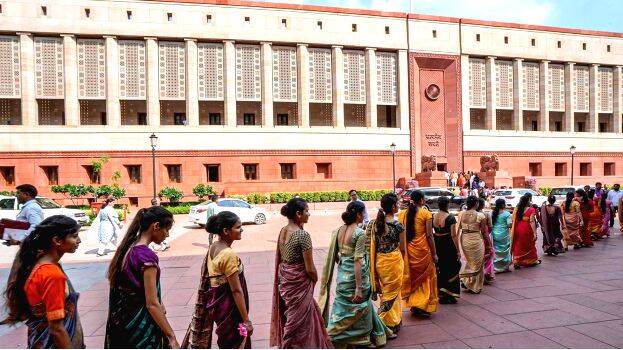 According to the Union Home Ministry, the census and delimitation stipulated in the women's reservation bill will be implemented by the government that will be coming to power in 2024. Meanwhile, South Indian states have already expressed concern that delimitation based on population would reduce their Lok Sabha representation.
Union Law Minister Arjun Singh Meghwal clarified in the House mostly confirming the claims of opposition MPs as the delimitation of constituencies will be conducted based on population. This gives ample evidence that in the coming days, the parliament will see fierce exchange of words between members, mostly circling around the topic of delimitation. This war of words can delay the proceedings. Therefore, the government should work prudent and proceed with the law only after reaching a consensus in the discussions at the all-party meetings.
The passage of the Women's Bill by the Lok Sabha was historic nevertheless. However, the requirement to complete the census and delimitation of constituencies to implement this has led to much confusion.
The Central Government's decision to form a Constituency delimitation Commission headed by a retired Supreme Court judge is a welcome one. This commission will group Lok Sabha and Assembly constituencies on the basis of reservation for women. The central government should not show a delay in announcing the schedule for completing the census and delimitation of constituencies.
The central government thus should work adeptly to fastrack the census which will give a basic idea for the populace to reckon by which year the law will be implemented. The higher representation of women in administrative duty will do no harm as currently propagated by certain sections. The panchayat Raj existing in the country is an exemplar of women's participation and its credible success.
In most of the states of the country, more than half of the people in the local bodies are women representatives. The archaic notion that women are restricted just to the walls of the kitchen was eradicated right after the introduction of reservation for women in local body elections.
Therefore, delaying the implementation of the Women's Bill passed by the Lok Sabha will take away the sheen of the law. It took almost three decades for the bill to pass the Lok Sabha. The same drudgery in governance should not come up during its execution.