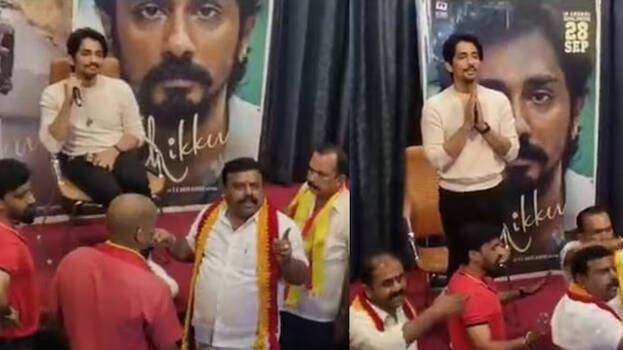 Tamil actor Siddharth, who was in Bengaluru to promote his upcoming film Chithha, was forced to leave a press meet by a pro-Kannada group. The incident took place at SRV theatre in Malleswaram, Bengaluru. It was the activists of Kannada Rakshana Vedike that interrupted the press meet. Following the Cauvery water dispute, Kannada organizations had demanded that Tamil films should not be screened in Karnataka.
Siddharth was interacting with the media when the group of Kannada Rakshana Vedike activists stormed into the hall and interrupted the press meet. Following this, Siddharth thanked all the media workers and left. The video of the incident is circulating on social media.
The Cauvery Water Management Authority (CWMA) had ordered Karnataka to release 5,000 cusecs of water to Tamil Nadu for 15 days. The Karnataka cabinet decided to give additional water to Tamil Nadu after the Supreme Court clarified that it could not interfere in this. Many farmers and pro-Kannada organizations came forward to protest this decision. Following the incident, the police have beefed up security in Tamil-majority areas in Bengaluru as a precautionary measure.