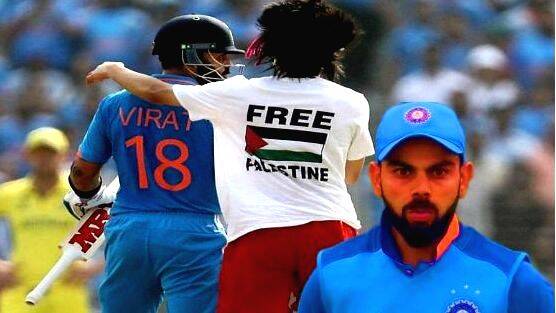 It was in the 14th over when India was struggling with the bat against the Aussies that a major security breach took place. A man climbed the stadium fences and ran straight towards Indian star batsman Virat Kohli, just to hug him. The invader's t-shirt emblazoned writings in favour of Palestine.
The man in a white t-shirt and red shorts rushed to the ground evading the security and reached an already fuming Virat Kohli. He tried hugging Kohli while security officials apprehended him. His T-shirt had the writing "Stop Bombing Palestine". Kohli was infuriated with the invasion and shooed away the man before the security officials could act.
According to the latest news, the invader has been taken to Chandkheda police station for questioning. " I am an Australian and my name is John. I love Virat Kohli and I support Palestine" the invader reacted to the media.