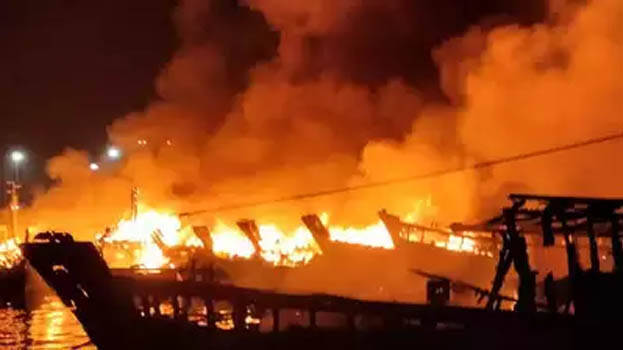 VISAKHAPATNAM: It is indicated that a tiff between YouTubers was behind the massive fire that broke out in Visakhapatnam harbour on Sunday night. As many as 40 boats were destroyed in the fire. According to the investigating officials, it is suspected that animosity that a group of YouTubers have towards a young YouTuber who uploads fishing videos triggered the fire in the harbour.
Police said that they are questioning the youth to get more clarity on the matter. The police said that the YouTuber was earlier involved in a tiff with some people over money. They added that the rivals might have set fire to one of his boats anchored in the harbour.
The shocking incident took place on Sunday night. On noticing the fire spreading, fishermen and locals tried to prevent the fire from spreading from one boat to another. However, they were unsuccessful. Most of the boats had tanks full of diesel and gas cylinders used for cooking. This caused the fire to spread. It was the Indian Navy that reached the spot and extinguished the fire. Each boat costs Rs 15 lakh. It is said that the total damage will be around Rs.5 crore.