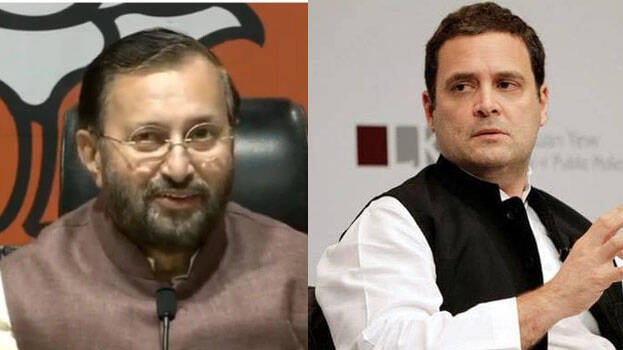 NEW DELHI: Central Minister Prakash Javadekar on Thursday launched criticism against former Congress President Rahul Gandhi for his recent comments regarding Kashmir issue. According to Javedekar, Rahul's election win from Wayanad had changed his mindset.
He said, "I am surprised about the fact that how far has the vote bank politics gone. Just because he won from Wayanad, does that mean his mindset has also changed." According to Javadekar, Rahul Gandhi should apologise to the people for hurting the sentiments of the nation. When quizzed about his remark regarding Wayanad, he said, " While Rahul represented Amethi, he never asked questions about Kashmir but now he is raising the Kashmir issue as he is representing Wayanad which interestingly has 28.65% Muslims and 21% Christians. All I am saying is his seat has changed, so mindset has changed. There is nothing wrong with Wayanad."
Meanwhile, the Congress leadership has come up against Javadekar's statements. Congress spokesperson Randeep Singh Surjewala said that the minister's statement proves how much has the BJP's political standard has stooped down. According to him, BJP must conduct a self-examination and apologise to the people for spreading lies.
Earlier, Rahul Gandhi had criticized the government by saying that violence is being instigated in Kashmir and people are suffering in the valley. This statement was also included in Pakistan's official letter to the UN following which the BJP accused Rahul of cheating the nation.