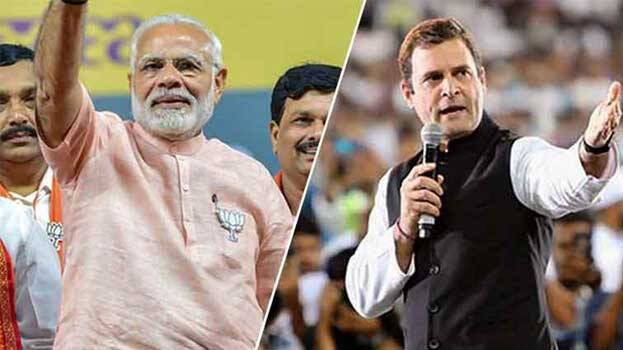 NEW DELHI: As the second NDA government celebrates its 100th day today, Prime Minister Modi said that the country has witnessed great changes and development over the last 3 months. Meanwhile, former Congress President Rahul Gandhi has mocked the government by stating that last 100 days have seen the democracy deteriorating under the BJP government.
Modi began his speech by saying that the government started functioning with great support from the people. During his speech, he pointed out various decisions made by the government during the first Parliament session. According to him, this session witnessed the most number of bills getting passed in the last 60 years. He also made special mention of the Triple talaq bill, the Kashmir bill and the Motorvehicle bill in his speech.
Central minister Prakash Javadekar said that the first 100 days of the 2nd Modi government have been historic with several developmental activities getting implemented during the period. He added that the government intends to achieve a $5 trillion economy by 2025. According to him, this will be possible only by empowering the poor and farmers in the country.
Meanwhile, Rahul Gandhi said that the first 100 days of the government has pulled the country backward. He tweeted, "Congratulations to the Modi Govt on #100DaysNoVikas, the continued subversion of democracy, a firmer stranglehold on a submissive media to drown out criticism and a glaring lack of leadership, direction & plans where it's needed the most - to turnaround our ravaged economy". Congress, through its official twitter page, stated that the 100 days can be described by the three words, 'dictatorship', 'riot', and 'anarchy.'