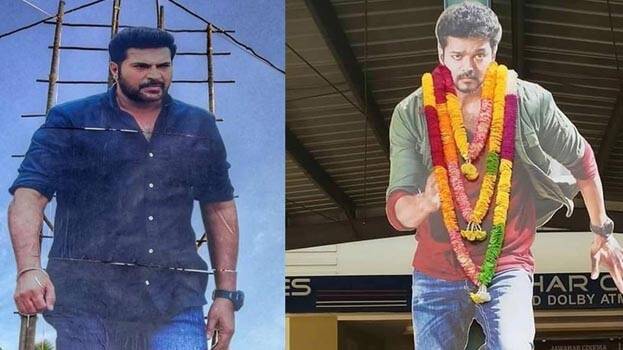 On the wake of accidental death of a 23-year-old woman in Chennai, South Indian stars Mammootty and Vijay have requested fans to avoid using flex boards in their names. Following the requests, the crew of Mammootty's latest film 'Ganagandharvan' and Vijay's film 'Bigil' have announced that they will not be putting up flex boards for advertisements.
Two days back, a flex board had fallen on the road in Chennai which led to the accidental death of Subhasri Ravi, a software engineer. Soon after hearing the news Mammootty met with producer Anto Joseph and director Ramesh Pisharody to discuss the issue. Following this, the team decided to avoid using big hoardings to promote the film. Tamil actor Vijay has also requested his fans not to erect hoardings and cut-outs for the audio launch function of 'Bigil' which will take place on September 19. Sources also say that other leading Tamil stars such as Ajith and Surya have also requested fans to avoid using cut-outs and hoardings for promotion.
Soon after the accident, the Madras High Court had down heavily on the TN state government for not taking action against those putting up illegal hoardings.