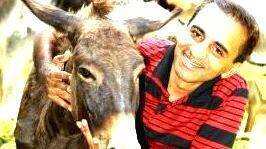 KOLANCHERRY: The word donkey is synonymous with a foolish person but don't downgrade that humble being too much… because, by doing so, you will be ridiculing the big secret behind beauty!

Now ask Abi, he will reveal that secret. World beauty and Egyptian queen Cleopatra took bath in the milk of 700 donkeys. Roma emperor Nero's wife Sabina and Napoleon's sister Paul depended on the same milk to retain their beauty.

Now that milk is available in Kerala also; It will cost you Rs 750 per 30 millilitre. You can get it from Dolphin I B A Donkey farm run by Aby Baby, who is an Mtech holder; the farm is located at Ramamangalam in Moovattupuzha.

There is donkey milk facial in some of the beauty parlours in Moovattupuzha. That will cost you Rs 1500 and above.

Aby is also making ten products out of donkey milk.

There are 21 donkeys in the farm spanning two acres. There are also breeds from Rajasthan and Tamil Nadu.

Now what has led Aby to the donkey business? To be frank, it is his failed marriage that led him to donkeys. Aby, who was an IT employee in Bengaluru, had married a Miss Kerala finalist. Within weeks the marriage fell apart. He realized that it happened because he had gone after beauty and brain.

After the divorce, he returned to his hometown.

The immediate inspiration was the sentences in the book of Joe in the Bible.

When Jobe was blessed to rise from poverty to richness, he was given some animals. Among them, there were 1000 female donkeys.

This was the information that prompted Aby to know and learn more about donkeys and become what he is today.