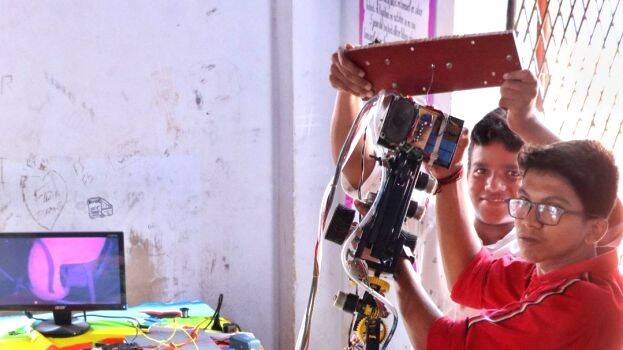 THRISSUR: The tragic death of 2-year-old Sujith of Thiruchirappalli had shocked the entire nation. The news was so hard-hitting that both Sivadev Manu and Suryathejus, students of Vazhakkulam GHSS, decided to come up with a solution to the problem of deaths caused by borewells. That is how they developed a robot named 'Borewell Rescue Robot.'
This brand new robot has managed to catch the attention of the public in the ongoing State School Science Fair held at Kunnamkulam. The robot, which was featured in the working model section, managed to secure first prize with an A grade. This socially relevant project has been well supported by school authorities and PTA members alike.
What is even more fascinating is that the robot was developed using steel rods and pipe materials which remained useless in a nearby shop. The robot, which comprises five tyres, a camera, a long crane-like hand and an oxygen pipe, has been made at a cost of just Rs 5000. The students have also been invited to present the robot in front of a panel of CUSAT experts.