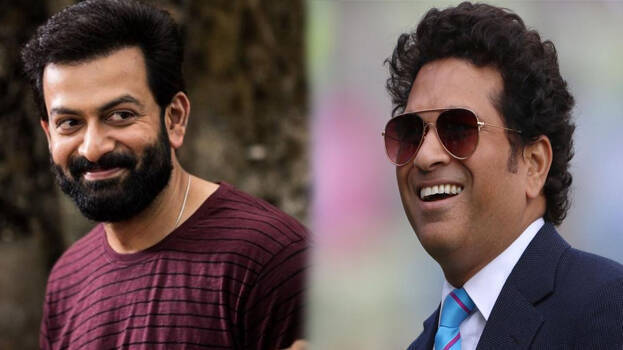 Taking photos and selfies with ones favourite stars is a common gesture. But ironically, there are stars who turn ardent fan of some personalities. Malayalam star Prithviraj was a great fan of an iconic sport star. It is none other than master blaster Sachin Tendulkar.

The actor himself has revealed this. In between a stage function recently, Prithviraj recounted his unforgettable journey with Sachin from Kochi to Mumbai, years ago.

"We might have posed for at least 200 photos every day but those who take photos will never forget those moments. However, we actors forget that most often. I had such an experience.

Once, on my way to Mumbai from Kochi, Sachin Tendulkar was on board with me, that too in the seat next to me. I'm a die-hard fan of Sachin.
When Sachin came and sat next to me, I didn't know how to kick off a conversation. Despite being a hard-core fan of him, I was a bit hesitant…

Soon, I shirked off my shyness and started speaking to him. We continued our conversation till we reached Mumbai. He said bye and alighted the flight at Mumbai airport. I'm 100 per cent sure that Sachin will not remember that journey now. And, in my case, it is something that I will never forget in my life," he says.