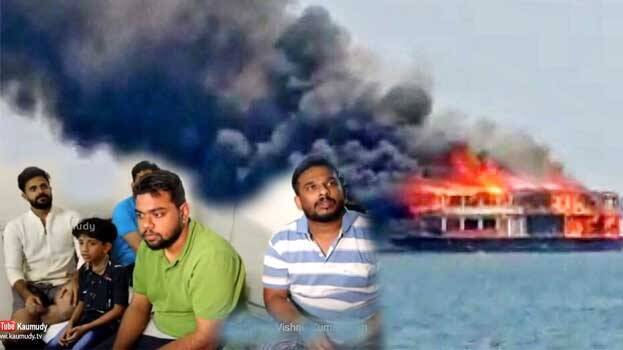 ALAPPUZHA: The tourists who got stranded in a burning houseboat at Pathiramanal in Alappuzha recently have got something to say. "What first came to our notice is the smoke that was bouldering out of the kitchen side. Very soon it spread to rooms inside the houseboat.

We didn't know what to do at that moment. All around us was only water. We thought everything will end and remember, all this happened within 8 minutes. Everything we carried except the dress we were wearing were gutted. This is the life returned to us by God," the travelers, who were miraculously rescued from the boat, told Kaumudy TV emotionally.
The boat, it is reported, lacked safety measures like fire extinguisher, life jackets, air tubes. "When fire started coming near us from one side, the boat staff kept telling us not to worry at all," they said.

The fire incident happened at the houseboat that was running through Vembanattu lake near Pathiramanal island. The boat had a 13-member tourist team including women and children.

They were miraculously rescued by Water transport department's boat and the police team that rushed to the spot in a speed boat.

One Shrank Saji who sped to the spot in his boat also made timely intervention to rescue the passengers.

The incident happened at around 1:30 pm Thursday.

The tourists from Kannur Mattannur had arrived at Kumarakom Kavanattinkara early morning on the day. They boarded the house boat Oceanus at around 12 pm. The trip should have actually ended at 10 am on Friday.