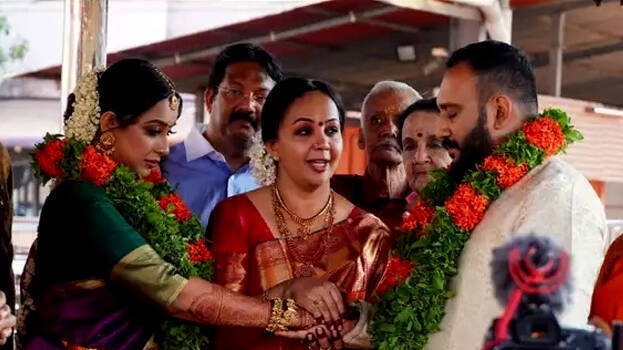 Actress and dancer Thara Kalyan's daughter and Tik Tok artiste Sowbhagya Venkitesh entered into wedlock with her friend Arjun Somashekaran. The marriage function was held at Sri Krishna Temple in Guruvayur. Their relatives and close friends attended the function.


The marriage was according to Tamil Brahmin rituals. Functions like Malamattal and Oonjal were held at the hotel. The two were in love for the past two years. Sowbhagya confirmed her relationship with Arjun only recently. She had shared her pre-wedding shoot pictures and invitation in her Instagram account.


Thara Kalyan said that she is very happy to have obtained someone like Arjun as her son-in-law. Arjun got emotional when Thara ended her words. Artistes like Manju Pillai, her daughter and Cuckoo Parameswarn attended the function.