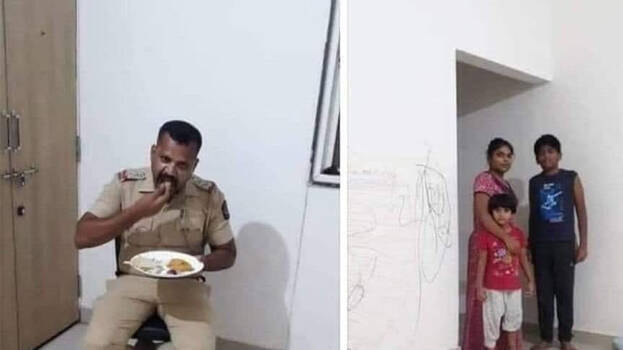 Day and night, the police force and health workers in the State are toiling hard to rein in Corona menace. When the whole of India is under lockdown and most Indians stay indoors, they are on duty.

Usually, no one bothers to think the men in khaki also have families.

A photo in the context shared by RJ and social worker Sumi is becoming viral on social media. In the photo, a policemen can be seen taking food at his home.

He is maintaining a fixed distance from his family which also includes two kids and wife as his job demanding moving around in public places and mingling with people.

His children and better-half can also be seen looking helplessly at him.

Already, the policemen have been facing criticism from various quarters for driving away people who showed a tendency to gather or crowd at public places.

The social media now says such critiques should spare some time to think about the hardships of the policemen.

കുറ്റപ്പെടുത്തുമ്പോഴും ഓർക്കണം അവരെ ;അവരുടെ കുടുംബത്തെ 🙏🏻🙏🏻
Stay Safe #Stayhome #SocialDistancing

Posted by Big MJ Sumi on Thursday, March 26, 2020