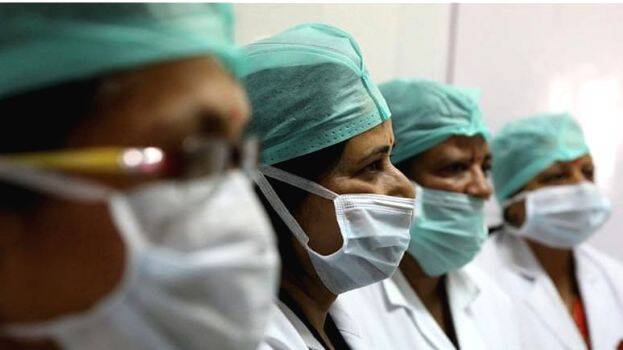 NEW DELHI: The nationwide tally of confirmed Coronavirus cases crossed the 1,000-mark and the death toll reached 27 on Sunday, even as the central government ordered sealing of all state and district borders to check community transmission of the deadly virus by migrant workers and asked those having left already to be quarantined for 14 days.

The national capital alone reported 23 fresh positive cases, taking its count to 72, while more people tested positive in adjoining Noida as also in Maharashtra and Bihar, among other states. The new cases included a SpiceJet pilot with no history of international travel.

The total number of positive cases has increased by 106 in the last 24 hours to reach 1,024 and eight more persons died in this period to take the nationwide toll to 27, according to the latest official figures.

As the 21-day lockdown entered its 5th day, the exodus of migrant workers from big cities continued unabated, desperate to return to their villages after being left jobless and many of them without food or shelter.
Charitable organisations, volunteers, religious institutions and government bodies including Railway Protection Force fed tens of thousands of people across the nation but many more remained outside the safety net.

Prime Minister Narendra Modi, in his 'Mann Ki Baat' radio broadcast, sought the nation's forgiveness for the hardships caused by the stringent nationwide lockdown, saying it was necessary because the country was fighting a battle between life and death.

He, however, expressed confidence that "we will definitely win the battle" against the coronavirus menace and praised the front-line workers in this fight against as well as countless workers delivering the essential services.

The government announced some more exemptions to the lockdown by allowing movement of all goods, irrespective of those being in essential or non-essential categories.
Concerned over such movements causing the risk of a community spread, the Centre asked state governments and Union Territory administrations to effectively seal all state and district borders and said those having already left be quarantined for 14 days.
During a video conference with chief secretaries and DGPs, Cabinet Secretary Rajiv Gauba and Union Home Secretary Ajay Bhalla asked them to ensure that there is no movement of people across cities or on highways as the lockdown continues.
"There has been movement of migrant workers in some parts of the country. Directions were issued that district and state borders should be effectively sealed," an official statement said.
States were directed to ensure that there is no movement of people across cities or on highways and there should be strict implementation of the lockdown.
Only the movement of goods and of those involved in delivery of essential services is allowed during the 21-day nationwide lockdown announced by Prime Minister Modi on March 24.
States have been also told to ensure timely payment of wages to labourers at their place of work during the period of lockdown without any cut.