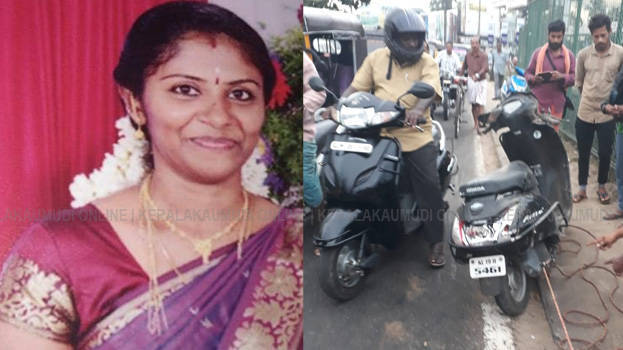 The stories of people who meet with untimely accident deaths in Kerala, which is notorious for motor accidents, are heart-rending. The story of Anitha, who died of head injury after her scooter got stranded in a rope that was dangling from a running lorry and she was thrown off from her scooter, is one such story.

The single mother of three children was working as a home maid in a house in Ulloor. She was ditched by her husband eight years ago and after that she went through many hardships to bring up her children. She managed to set up a home with her own earnings. The stroke of death occurred when she was about to start her life with her children in that dream house on Monday after house-warming.

Such accidents have been a common thing in State roads.

The government or lawmakers, who make vain attempts to cut down on road accidents through campaigns and road safety weeks, may not be knowing the pain of the victims and their relatives.

By looking into the details of accidents, one would come to know that most accidents are caused by the carelessness of motorists. Most of the bike-riders who lose control and meet with fatal accidents are either youths are teenagers.

In the case of Karamana accident, nobody might have noticed the rope hanging down from the lorry. Lorries overloaded with good items are a common sight on any road in the State. The loads that include long and thick logs and iron rods that jut out of lorries have proved dangerous for other road users.

The rules to be followed by goods lorries are often flouted and the traffic police are also not strict about the rules.
Sometimes even two wheelers are seen loaded with heavy pipes and other materials.
In the Karamana accident, the lorry that was the reason for the casualty was loaded with dry fish from Tamil Nadu. Neither the driver nor the cleaner might have noticed the rope that got untied.

But may road travellers might have noticed this. They could have informed the police or attracted the attention of the driver to tell him about the risk involved. Such accidents shows that there is no point in mere installations of CCTV cameras at different points along roadways. There should be arrangements for observing vehicles and taking immediate safety steps.

Even the dividers built for traffic safety sometimes turns the death trap for motorists, especially during the night time. The poor light on roads and unscientific construction of dividers are threat to motorists.

Usually, the outer world are unaware of the hardships and sorrow the families of victims undergo. It ends up as the personal sorrow of only family member. In the Karamana accident, three small children have been orphaned. Now they will have to be at the mercy of their relatives. It is the government and NGO that will have to come forward to help them.