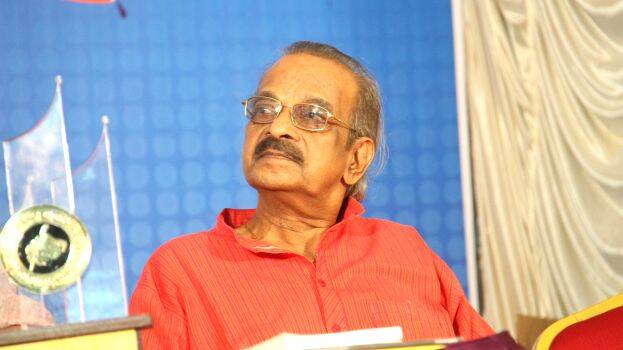 THIRUVANANTHAPURAM: Noted lyricist and poet Chunakkara Ramankutty (84) passed away in a private hospital here at around 11 pm. He was under medical care for age-related illness for the past six days. He was staying with his family in 'Renuka Nivas' in Thirumala. The funeral will be held after the COVID test. Wife: Thankamma (late). Daughters: Renuka, Radhika, Ragini. In-laws: C Asok Kumar, PT Saji, KS Srikumar.
Ramankutty was born on January 19, 1938, as the son of Krishnan and Narayani of Chunakkara Karyatti House in Mavelikkara. He graduated in BA Malayalam at NSS College, Pandalam. He wrote over 500 songs for cinema, drama, and light music. His entry to the cinema was through the song 'Apsarakanyaka' in the 1978 movie 'Aashramam'.
Ramankutty wrote songs for Akashavani and for dramas of Kollam Azeezi Malankara Theatres, Kollam Gayathi, Kerala Theatres and National Theatres. He also started a drama troupe named Malayala Nadaka Vedhi. On getting appointed at the finance department, he shifted to Thiruvananthapuram. He received several accolades including the 'Gurusreshta' award of Sangeetha Nadaka Academy in 2015.