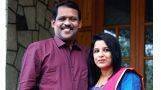 D Sajith Babu, District Collector, Kasaragod, has found a place in the final list of 12 persons eligible for the Prime Minister's 2020 award under the category, 'Improving Service Delivery and Redressal of Public Grievances'.
An alumnus of Thiruvananthapuram University College, he is the only district collector to have achieved this honour from the State and also from Tamil Nadu and Karnataka. He has avoided the red-tapism in Kasaragod district administration where the file movement is brisk and not all the officials have to see the files in person. Within two years, he cleared 69, 300 files.

Currently, only 2,511 files are pending out of four taluk offices, two RDOs and a collectorate. This was the reason he could find a slot in the list of winners.
The 47-year-old collector is a 2012 IAS batch official, He took charge as Kasargod district collector on October 17, 2018.

How he proved a point
Manikantan's wife Subhashini and children had applied for the land via Whastapp. When Sajith was going through it, the mother and children came before him with teary eyes. Soon he called Kasargod Tahsildar P V Rajan and sought means to allot the land. The family was in deplorable condition as it also had to take of Subhashini's late brother's three children. They had no place to reside.

The pattayam (title deed) got ready within seven days. Similar one Vellarikundu native Kariyan had been running from pillar to post for the tile deed. The collector took immediate action so that he got the title deed within seven days.

Existing system
Even though the country has attained freedom, the file flow process never attained freedom as the file movement initiated during 1932 by the then British Collector Richard Tottenham in North Arcot district, is still being followed.
File movement is a tedious and time consuming process. It goes through various lower offices ranging from village office, taluk, RDO office before it reaches the Collector's office. A petition takes at least 11 to 12 months to get his file cleared.

"Here I felt a change is required. Now the letter received will be directly sent to the concerned RDO/taluk/village without passing through intermediate sections," says Sajith, who has more than half a dozen post graduate degrees.
As per the present system, village officers are not able to be in his seat up to five days due to the frequent call by officers from Tahasildar to the district collector to attend meetings. Sajith done away with this and arranged video call facility. He went in person to sections where his interference was needed.

"If this arrangement is made in other departments also, it would cut the hardships now endured by the common people, Sajith adds.