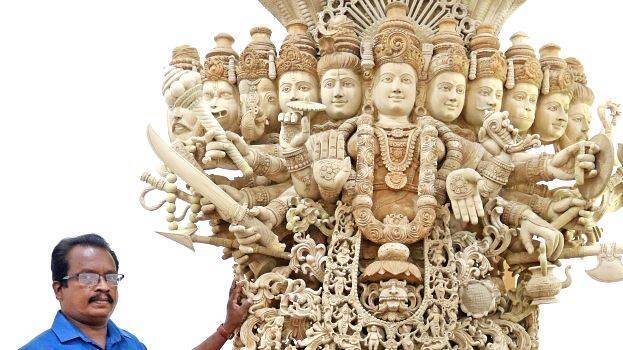 THIRUVANANTHAPURAM: A 10.5-feet tall 'Vishwaroopam' statue is getting ready for Malayalam ace actor Mohanlal. The sculpture was made on Mohanlal's demand under the leadership of artist Nagappan of Kerala Arts and Crafts Village in Vellar. The statue made out of beechwood is in its final stages and on completion, it will be shipped to Chennai.
It is the work of nine people for two years that made the state possible. Nagappan is also checking into the possibility of Guinness World Records. The 'Vishwaroopam' statue of Lord Mahavishnu has 11 heads and 22 hands carrying different weapons. There are 400 big and small carvings of different characters from the epic 'Mahabharata' in the sculpture. The priceless statue is no yet priced.
According to legend, the mighty form of Lord Mahavishnu was displayed by Lord Sree Krishna on Arjuna's request during Bhagavad Geetha.