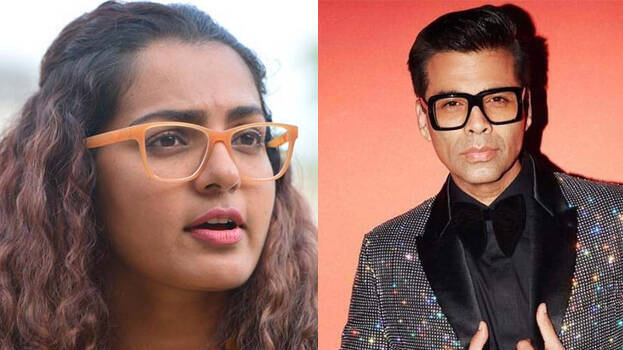 Actress Parvathy Thiruvothu, best known for her outspoken nature, has now given her opinion on Karan Johar's upcoming project on Independence Day. She has, in fact, given a strong opinion as she shunned the project.
Taking to Instagram, Parvathy, in one of her stories, called the announcement 'yuck'. Like always, and expected, Parvathy also got a lot of applauds for her bold comment on the project.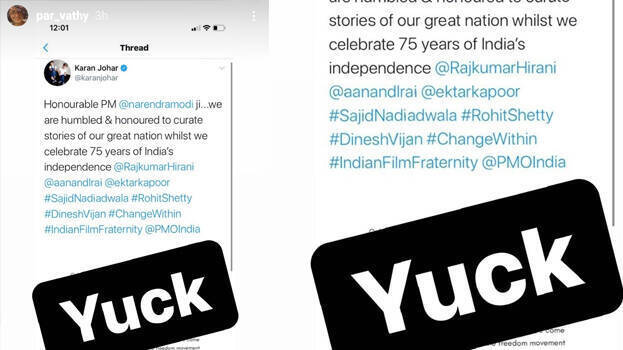 "Celebrating 75 years of Independence by joining hands with 'Change Within', an initiative by film fraternity, to make inspiring content about valour, values and the culture of India. It is our stories that make us who we are, and every corner of our country has an empowering tale to tell Last year we made a special film on the 150th birth year of Mahatma Gandhi, directed by Rajkumar Hirani. Followed by various meaningful initiatives, we have come together to celebrate the spirit of the freedom movement," shared Karan Johar while making the announcement.
He also added, "As we embark on this journey, it witnesses a fresh beginning of the grand era of storytelling to cherish the soul of the idea called 'India'. Drawing inspiration from our Honorable Prime Minister from whom we also seek sustained guidance, we the members of film fraternity are privileged to announce our plan to celebrate the 75th year of Independence. Many more creative contributors will be joining us in the times to come. Watch this space for more!"
Parvathy is best remembered for her role in 'Qarib Qarib Singlle' opposite late actor Irrfan Khan. She has been a part of various films that have been lauded like 'Bangalore Days' and 'Charlie'. The actress is yet to sign another Bollywood movie.