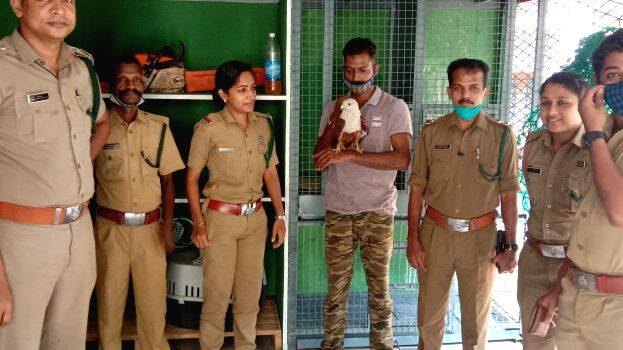 KOTTAYAM: It was three months back a brahminy kite came to Plachery Forest Office. It was taken to the woods several times but returned at every instance. Now it's a regular at the office. "Only thing missing is his name in the attendance register. It's a member of the forest office"-says officers at the forest office.
This brahminy kite was first spotted in a house in Vazhoor. After the family members here informed, the deputy range officer at Plachery range office PV Veji and group came to the house and took the bird. The bird was cared for by Ajesh, who is the watchman at Animal Rescue Centre. On the next day, it was taken to Ponthanpuzha forest. Two days later, he was found on a tree branch near the office. It was not willing to leave. Ajesh gave him food and he was happy to stay there.
After two days he was again taken to the forest but returned days later. This happened for over ten times. Now the bird is friends with everyone at the office. He will sit on hand and shoulder and take food on its beak if offered. If angry, the bird will give a sound response. As there is no permission to pet wild animals, the bird is not yet named. Usually, the bird will be given food and forced into the air. As it can return at any moment, there'll be food in stock for the bird inside the fridge at the office.
"The brahminy kite might have been domesticated at a house before. It is not used t finding food on its own. He is friends with the officers gere", says deputy range officer PV Veji.