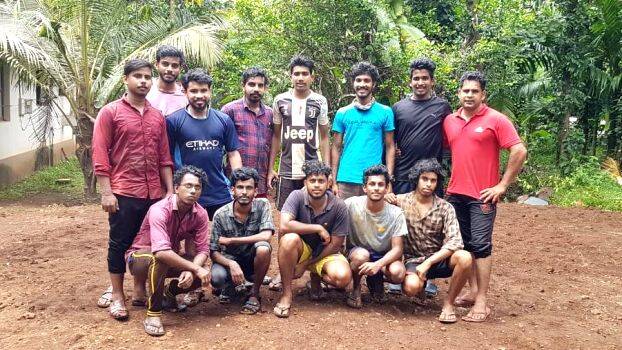 Though there are a large number of jobless persons in Kerala, shortage of labourers in Kerala is a major problem. Due to the passion for White collar job, people will never go for any other job even if they have to starve. This has been the situation in Kerala.
One of the lessons taught by Covid pandemic is that the solacing change in the attitude towards jobs.
Now we can see persons, even those who had been holding top posts in companies coming out to do some job or other for their livelihood. They have come to understand the dignity of every job. Nevertheless, there is little people to do labour works.
It was against the traditional concept of White Collar job that a bunch of youths from Kadakkadu Vengappara village came forward. They have become the role models. Though holders of high degrees, they came forward to do labour works on paddy and courtyards, without going in search of White collar jobs.
Kerala Kaumudi had carried a story about them, who would rush to do any menial job; they are just a phone call away.
They do jobs like clearing woods, mason work, potters job, reaping etc and will not bargain for wages. They will take whatever is given to them. If it is more, they will return that extra. The new enterprise was started by five friends during the lockdown standstill. The natives were surprised to see them but later that feeling turned into encouragement. Soon more and more people started joining them.

When the team leader Ajith Raj says that sitting idle just because we have qualification and degree certificate will only waste one's life, there is truth in it.
This is a lesson that young people should understand. Lack of manpower will have a retrograde effect on the State's growth. Those who rap government in the name of uncountable job aspirants who have registered in employment exchange also don't know the greatness of a job.
One of the reason why agricultural sector is not making any progress is that lack of people to work on fields. When the wage was also increased, the agriculture became less of an attractive job.
If unemployed youths come together, Kerala would be able resolve the issue of manpower crisis What Kerala needs is Kasargod model collective of youths
Nothing is impossible if there is health and a sound mind to work. They also should be convinced that no job is inferior to the other. Not only in cinema, in real life also, can new paths can e tried. And, society will be with them.