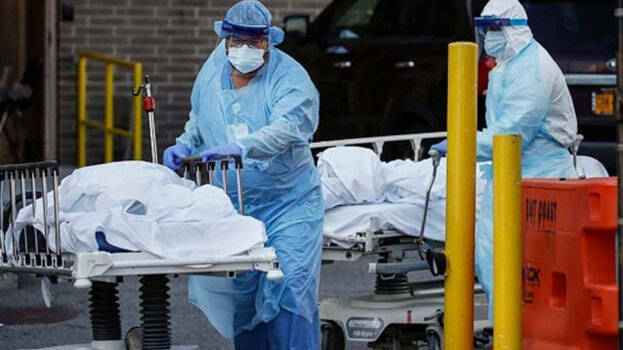 NEW YORK: Countries across Europe are seeing a resurgence of Covid-19. England, Germany, Portugal and Italy have seen a record surge in cases. Germany, once lauded for its handling of the pandemic, has recorded its highest number of cases this week than it ever did during the first seven months of the pandemic. As temperatures dip across the US, the country which remains the worst-affected by Covid-19, recorded most daily infections in two months taking the tally to 8 million.
India has recorded 62,212 fresh coronavirus cases and 837 deaths in the last 24 hours. Union health minister Harsh Vardhan asked Indians to exercise caution ahead of the festive and winter season. India's daily number of cases have dipped but concerns remain regarding fresh outbreaks that could fuel a second wave of Covid-19. Kerala, West Bengal, Madhya Pradesh and Rajasthan cases and deaths remain a concern for the authorities as these states continue to show an uptick in cases.
Trump shows new determination to minimise virus
In the week since he emerged from coronavirus isolation, President Donald Trump has demonstrated new determination to minimize the threat of the virus that has killed more than 215,000 Americans and complicated his chances of winning another four years in the White House, reports AP.
Iran extends Covid curbs in capital as nationwide deaths pass 30,000
Iran, the Middle Eastern country hardest-hit by the coronavirus, extended restrictions and closures in the capital Tehran into a third week on Saturday as its death toll rose above 30,000.
Belgium registers over 10,400 new Covid-19 cases, highest daily rise
Belgium has registered nearly 10,400 new infections on October 13 marking the largest daily increase since the start of the outbreak of the coronavirus pandemic, the Belgian public health research institute Sciensano said on Saturday.

Covid-19 case confirmed in pope's Vatican residence
A man living in the same Vatican residence as Pope Francis has tested positive for Covid-19 and gone into isolation, the Vatican said on Saturday.
Indonesia reports 4,301 fresh Covid-19 cases, 84 new deaths
The Covid-19 cases in Indonesia rose by 4,301 within one day to 357,762, with the death toll adding by 84 to 12,431, the Health Ministry said on Saturday.
Singapore reports 3 new Covid-19 cases
Singapore reported three new Covid-19 cases on Saturday, including one imported infection, taking the country's coronavirus caseload to 57,904.
Poland records 9,622 new cases
Poland recorded 9,622 new coronavirus cases marking a huge daily increase. Several countries including Czech Republic, Russia, UK, Germany, Spain and Italy have seen record spikes this week showing a resurgence of the Covid-19 in the continent.
Russia has recorded 14,922 Covid-19 cases in last 24 hours
Russia's Covid-19 tally reached 1,384,235 with 14,922 new coronavirus cases. The death toll rose to 24,002 with 279 dead in the last 24 hours.