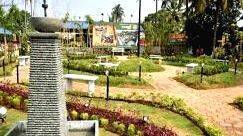 The dumping yard known as Erumakkuzhi that existed as a cancer on the countenance of Thiruvananthapuram city is a lush green beautiful garden today.
Although it was known as Erumakkuzhi, the waste was piled up like a hill not long before. As the waste disposal centre at Vilappilsala was closed following public outcry, the Erumakkuzhy had been the only source of corporation to dump waste.
A portion of the waste used to be removed only during Attukal pongala time.
However the project taken up by the Corporation during the fag end of its tenure is commendable. This could also be a role model for other corporations.
Erumakkuzhi will now be known as Sanmathi park. In the naming contest attended by more than 800 students, it is the name suggested by Bharathiya Vidhya Bhavan school 12 th standard boy Anagha Roy that was selected as the name for the park. The name means 'good sense.
It also becomes a memorial for Mahatma through the word Sanmathi, which figures in his dear bhajan --- Raghupathi raghava raja ram…
Decentralized treatment plants should be set up in urban areas where waste collection and treatment have become a challenge. Though discussions for this is going on, nobody has been able to come up with any model that is acceptable to the people.
The main problem is the scare of public protest soon as the word waste disposal is heard.
What is before the government is bad experiences from Vilappilsala. To clear the misunderstanding in the minds of people, plants that can win the trust of the people should be installed and operated.
Since there is no waste disposal system in the State, most of the garbage pile up vacant or secluded places. The problems created by environmental wise and health wise is many.
The new corporations or local body institutions that will be elected to power soon should have in its agenda an effective waste disposal system.
In all big cities, there are piles of waste and garbage. If efforts are put in, more gardens like that in Erumakkuzhy can take birth.
Even the money spent for non-productive projects may not be required to start projects like Sanmathi. Let the people's representatives who come to power in local self-governing bodies have that good sense!