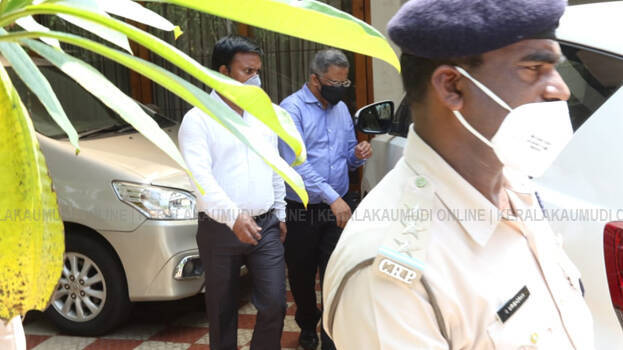 THIRUVANANTHAPURAM: The 24-hour long raid of the Enforcement Directorate at Bineesh Kodiyeri's house has ended. The Kerala Police stopped the vehicle of the enforcement directorate and the CRPF when they came out after the raid. The ACP said they have sought an explanation from officials and following that the vehicle was permitted to go.
Bineesh's mother-in-law told media that the officers are lying on the credit card obtained from his room. When they saw the card they could have called us. They seized my iPhone. They threatened to arrest us. They tried to harass us mentally. Bineesh's wife told them that she will not sign the mahassar even if taken to jail.
Some dramatic scenes were witnessed in front of Bineesh Kodiyeri's house when the ED continued raid this morning. A spat broke out when his relatives were not permitted to enter the house by the Karnataka police. The state police reached the spot after a spat broke out between them. Bineesh's wife, his two-year-old child and her parents were in the house. The relatives said they will not leave the place without seeing them. Bineesh's aunt (mother's sister) and some other relatives staged protest in front of the house.
Though there were hints that the raid ended at 9 pm last night, the ED sought more documents based on Bineesh's statement. In the meantime, the lawyer arrived on the instructions of the family. The ED did not permit the lawyer to go home even after he requested for it. The lawyer later spoke to Bineesh's father-in-law. When the dispute intensified, noted lawyer Murukkumpuzha Vijayakumar reached Bineesh's house. He is the one who handles CPM activists' cases in the capital city. Raid is expected to continue in firms connected to Bineesh.