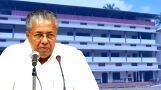 As the government is covered by the black clouds of controversies, many commendable achievements go unnoticed. Among them is the growth of the standard of schools over the last 4.5 yrs.
We are growing towards international standards in the education sector. We have achieved this fete undermining the presumption that quality education will not be available in public education sector.
The LDF's stand that education is children's right and it is the duty of the government to render it as well as the leadership of CM Pinarayi Vijayan and Education Minister C Raveendranath had helped Kerala achieve this milestone within a short span of time.
Teachers' cooperation at school level needs special mention. Deriving confidence from the above growth, additional 5.05 lakh students joined the school from 2017-18 to 2019-20,.
This was not the state five years ago.
With the onset of globalization, there was a tendency to enroll children in private schools anyway. It was the practice of the rich in earlier times. Later it spread like an epidemic even to the financially distressed parents at the bottom of the society. What led to this situation is the degradation of the standards in government schools.
Even poor people secured admission for their children in private schools after paying heavy fee. But with the passing of 4.5 years, it was success in all aspects.
In fact, there were instances when rich students left their private school only to join government schools.
When the whole world was shut due to Covid pandemic, the State government launched online classes for students even as early as on June 1
No other state in India had this achievement.
Kerala made strides in Academic sector as well as in the technical field. The also became India's first complete digital state.
All changes it brought to the education sector is not small thing but something that will have a decisive role in shaping up the future of Kerala. Unfortunately, the general public is shying away from appreciating these achievements.
Their discussions are always about controversies. The private sectors are envious of these achievements made by government schools.
The private schools are staring at the possibility of even rich people's children leaving those schools to join government schools.
Therefore they will also try to persuade the public to turn a blind eye on the government's achievement.
In future, students will only go to the schools that gives valuable education at small fees. The LDF government has made a big step towards that. Though through dark cloud, one should not miss that silver lining.