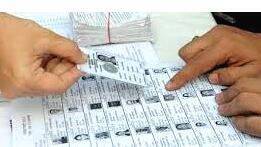 (published on October 28, 2020)
THIRUVANANTHAPURAM: The number of booths in the local body polls will be increased. 357 additional booths will be arranged as the number of voters have increased. If there were 34,423 booths in 2014, there will be 34,780 booths this time, said state election commissioner V Bhaskaran.
A decision will be taken in the first week of November on whether polls should be held in two phases like 2015 or in a single phase. A final decision will be taken on it after the commission hold talks with the state police chief after knowing whether they can provide the required police force to complete the polls in all the 14 districts in a day. In the last time, polling was held on November 2 and 5. Elections were held in seven districts in one phase.
Meantime, all political parties have started preparations in anticipation of the election notification by November 5. CPM, BJP and Muslim League in Malabar have started discussions on the selection of candidates. The main discussion of topic is who should be the mayor candidates in corporations.
Expense of 12 crore due to Covid
An amount of Rs 12 crore is needed to buy gloves, masks and other items to ensure the immunity of COVID. The total poll expenses are Rs 180 crore.
The state election commission has taken over the voting equipment which were in the custody of the central election commission. Almost 70,000 is needed with two in each booth. 8000 voting equipment have been kept as reserved. The first level testing has been completed by the technical experts from Hyderabad.
Voters list
There are facilities to include names in the voters list and to correct them till October 31 at the commission's website. There are presently 2.67 crore voters including 180 transgenders.
Total voters: 267,24501
New: 1479541
Total wards: 21, 865
Grama panchayat: 941
Block panchayat: 152
istrict panchayat: 14
Municipality: 86
Corporation: 6