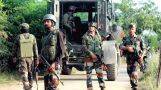 When China has begun to exercise restraint along the border, Pakistan has started unleashing terror across to India. As usual it is carrying extremist activities and create a feeling of insecurity in Kashmir.
There is another intention for Pakistan that is they want to sabotage the district development committee election that will be held in Kashmir after a week.
Local body election here will also have a never-before specialty since it is the first election to be held in Kashmir after the new constitutional amendment came into effect. This is the first opportunity people of Jammu and Kashmir get to good ever since the region is divided into three Union Territories.
Pakistan has been helping terrorists from its land to infiltrate into Jammu and Kashmir to provoke those who are against the amendment and fan there separatist mindset.
It was four such terrorists who were gunned down by Indian security forces at a check post three days ago when they tried to sneak in through the highly porous border of India. .
Just before that in the attack waged by Pak soldiers at the border, some of our army men had attained martyrdom.
India, but, reciprocated by destroying Pak bunkers and guard points. About eight Pak soldiers also were killed in the retaliatory firing.
Amid the tension created by these incidents, three days ago the security personnel eliminated three Jaish-e-Mohammad terrorist during the checking at Toll Plaza.
The truck in which they were travelling were stocked with arms and ammunitions.

They were brought to create unrest in different parts of Kashmir. Timely intervention preempted possible attacks during election time.
Pakistan's ploy to turn the people against Indian government has been going on for decades.
They have also been receiving the local help.
Despite some resentment over the abrogation of article 370, India has been able to avoid dangerous situations as expected.
However Pakistan will again send terrorists to sabotage the election process.
There is no point in India apprising Pakistan of it protest against attacks and they will continue with it. The only way is to enhance security and monitoring along the border.
This year till now Pakistan has made ceasefire violation more than 4000 times.
But again Pakistan is hatching plots to attack India. Only Pakistan can be convinced by tit for tat.
Extreme alert is required till the Kashmir elections are over.
Mumbai terror attack anniversary comes on Nov 26 and Intelligence has got the report that terrorists are plotting to strike massively on that day
The other day the mastermind of Mumbai attack, Hafiz Said was awarded ten years' jail by a Pakistan court. In April 2012, the United States announced a bounty of $10 million on Saeed for his alleged role in the 2008 Mumbai attacks. Pakistan had also denied India's demand for deporting Saeed. Pakistan even said that it had no clue about his whereabouts.
Pak finally took action for putting him after it was enlisted in black list and internal pressure to put him on trial. Pakistan is fostering such terrorists and terror group as it needs them for covert operation against India.