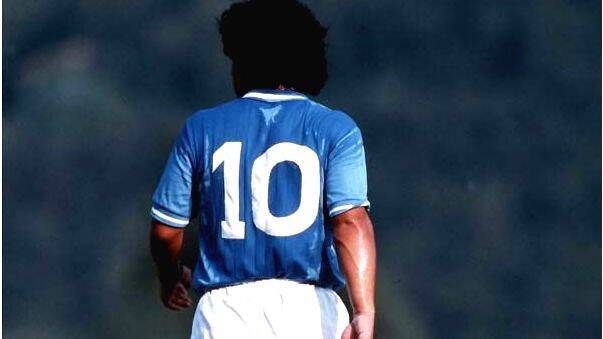 A magical legend of the game has gone from the football field.
The God's last whistle was blown to a hysterical game which was played by this rare genius from the Latin American country of Argentina, that created fans all over the world with the unearthly beauty of football, who is an artist on the playing field and a rebel in life. Diego was a puzzle that could not be fully understood by his opponents on the field and by those closest to him in life. He was dear to the almighty. Maradona has said that God helped him to score a goal with his 'hand' in a World Cup. The divine presence inside Maradona may have made the goal of the century in the same match. Perhaps the devil loved Diego more than God. That may be why he was constantly driven to insane ways of intoxication.
Perhaps, Diego possessed a lifestyle that could never be considered a model. But it was not only a generation or a period that he amazed with his divine movements on the playing field. Maradona's style of play stands as unfathomable magic of secrecy for generations to come. The black episodes of his personal life fade before its supernatural allure.
Maradona was an angel in one half and a demon in the other. Even as he disguised himself as an angel on the field, he continued his journey without hesitation in search of a forbidden spring outside of it. Maradona made his opponents irrelevant with a run with the ball, an unexpected stop then a sudden acceleration as if it is stuck in his feet. The speed and direction of that five-foot-five inch tall man were always inaccessible to the calculations of those who tried to defend.
Diego is the man who made World Cups a favorite event of the world. Four World Cups have witnessed his ups and downs. Diego kissed the 1986 World Cup in Mexico, with a small team of not so great players. That World Cup is still remembered in Diego's name. Four years later, in the final, though the Argentines were unable to break through the great wall of Germany, the fans cheered for Diego. But at the 1994 World Cup in the United States, he was caught using banned drugs. It was a tragic scene of Diego returning from the World Cup stage with his head bowed in shame. Habits that had gone out of hand by then dribbled several times across the bridge between life and death.
Maradona followed the revolution on the pitch in his life as well. Che Guevara and Fidel Castro were tattooed not on that body but on his heart. Praising Mother Teresa's philanthropy and the socialist ideology of Hugo Chavez, Maradona did not hesitate to ridicule American President George W. Bush as a trash can and Donald Trump as a war-loving clown. The man in Maradona kept shouting without fear of anyone for what he thought was right.
Pele is far ahead of Maradona in terms of numbers and personal life. But Maradona had a strong magnetic field that attracted the crowd to him with his right and wrong. Fame and notoriety overwhelmed Maradona with the same joy.
Television became popular in India in the mid-eighties. If Pele's legend was heard, the opportunity to see Maradona gave him a heroic atmosphere in our country. The depth of love for him was seen when he visited Kolkata in 2008 and Kannur in 2012. Diego received the same reception around the world.
Although there have been many scientific studies on Maradona's movements and ball possession, none of them have been able to explain that magic. When Maradona appeared in the middle of the pitch, Ferenc Puskas, Gerd Muller, Pele, Socrates and Beckenbauer all gave way to that surprise. But despite the likes of Ronaldo, Zidane, Beckham, Figo, Cristiano and Messi, Diego Maradona remains relevant today. Maradona reigned on a throne built by God for one man. Although he lived to be only sixty years, he had the awe to inspire six hundred years. Therefore, it can be said that Diego Maradona has not said goodbye. Salute to the magician of football.