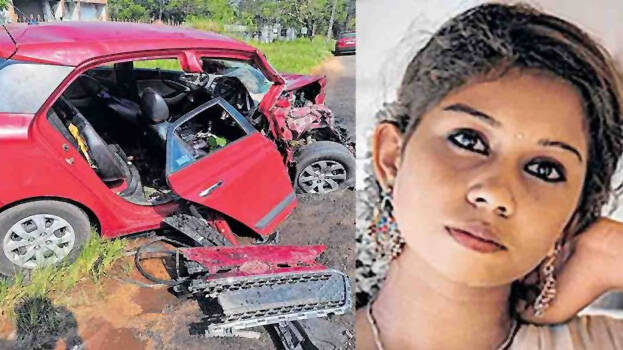 KANICHUKULANGARA: A 19-year-old girl died when the car in which she was travelling collided with a lorry near Thiruvizha Junction in Cherthala on the national highway. She has been identified as Vishnu Priya, wife of Ananthu of Aluva.
Ananthu (22), his friends Abhijith (20) and Jeo (21) sustained serious injuries. Ananthu has been admitted at Alappuzha Medical College, Jeo at a private hospital in Kochi and Abhijith at the Kottayam Medical College.

Vishnu Priya died at the hospital in Kochi. The accident happened Saturday morning at 8.30 am. Police said the car coming from Alappuzha and the lorry from Cherthala collided. The four were taken out from the car by the police from Mararikulam and highway after mangling the vehicle.
Vishnu Priya was the daughter of Sudheesh (late) and Anupama.