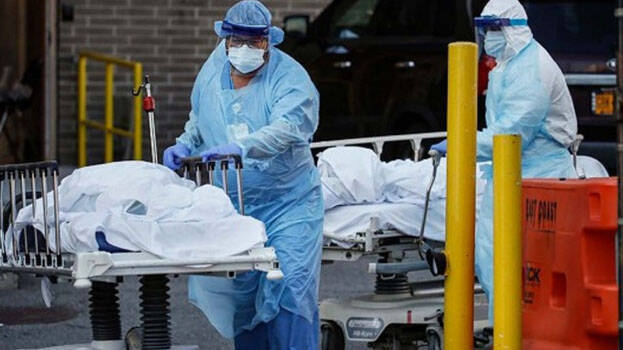 NEW YORK: The global tally of coronavirus cases stands at 66,195,510. While 45,782,784 have recovered, 1,523,360 have died so far. The US, the worst-hit country, has 14,759,965 cases, and 285,473 have died from the disease there. It is followed by India, which has 9,607,632 cases, Brazil (6,534,951), Russia (2,402,949), France (2,268,552).
US President-elect Joe Biden said on Friday that Americans will not be forced to take the coronavirus vaccine and he is willing to get vaccinated publicly to assuage any concerns about its efficacy and safety. I don't think they should be mandatory.
I wouldn't demand it to be mandatory, but I would do everything in my power just like I don't think masks have to be made mandatory nationwide, Biden told reporters at a news conference in Wilmington, Delaware. Biden was responding to a question if COVID-19 vaccine is made mandatory. Congress must pass economic relief for workers and businesses as soon as possible. People across our country are hurting and Congress has not done enough for folks struggling to pay rent and put food on the table.
Meanwhile, in Canada amid a raging second wave of the coronavirus pandemic, the North American state reported 3,763 new cases in the past 24 hours, taking the overall infection tally to 400,031, according to health authorities. The Public Health Agency of Canada said on Friday that the country's death toll has also increased to 12,470, reports Xinhua news agency. The spread of the pandemic across Canada has been accelerating.
The island kingdom of Bahrain says it has become the second nation in the world to grant an emergency-use authorization for the coronavirus vaccine made by Pfizer and its German partner BioNTech. The state-run Bahrain News Agency made the announcement on Friday night. It said it followed thorough analysis and review of all available data. Bahrain had already granted an emergency-use authorization for a Chinese vaccine made by Sinopharm.
On Friday, India reported 35,852 fresh Covid-19 cases. Its case tally now stands at 9,607,632. The country's death toll has mounted to 139,714. With 1,842,587 cases, Maharashtra has the highest number of coronavirus cases, followed by Karnataka 890,360, Andhra Pradesh 870,675, Tamil Nadu 787,554, and Kerala 625,767. Delhi reported 4,067 new Covid-19 cases in the last 24 hours, taking the total count of cases in the national capital to 586,125.
Prime Minister Narendra Modi on Friday said India's vaccination programme against Covid-19 would begin as soon as scientists have their go-ahead, and asserted that healthcare workers involved in treating coronavirus patients, frontline workers and old people suffering from serious conditions would be inoculated on priority.