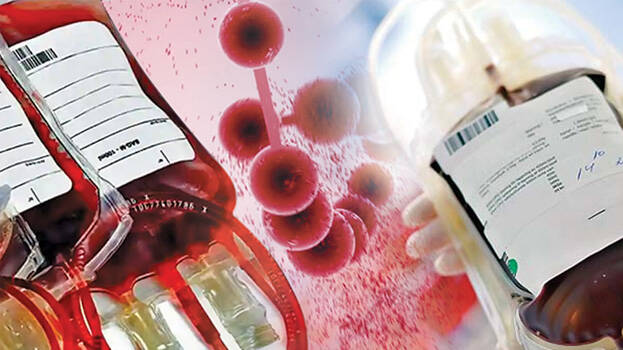 Transfusion medicine has emerged as a separate branch with rapid and numerous advances in the field of blood banking. The discovery of ABO blood group system by Karl Landsteiner in 1901 laid the foundation of blood transfusion. Until the early 1980s, blood transfusion in India was largely whole blood, but the introduction of plastic blood bags in the country began to transform the blood processing techniques and hence the origin of blood components. The discovery of anticoagulants increased the shelf life of blood components during storage and the further addition of preservative solutions to red blood cells extended the storage life. The discovery of causative agents of transfusion-transmitted infections led to the development of diagnostic tests and subsequently, infection screening of donated blood units became mandatory as per Government of India notifications.
A safe blood donor is the only potential source of blood. Owing to that, the COVID-19 outbreak had a huge impact on blood transfusion services. Being an essential service in health care, blood centres had to render constant service throughout the crisis. A lot of public apprehension needs to be addressed on blood donation concerning COVID-19. There is no recommendation on COVID-19 testing on asymptomatic donors before blood donation as until now no cases has been reported through transfusion. A healthy donor who meets all the criteria for a blood donation including National Blood Transfusion Council - COVID-19 related questionnaire can donate blood safely. Once recovered from the disease, one can even return to the donation pool after being tested negative and have been symptom-free for at least 28 days.
It is known that blood transfusion is one of the most common therapeutic interventions happening in health care settings. Though blood transfusion is life-saving, the potential drug is not devoid of adverse events. Here are a few of the advances in blood banking which supplements patient care and safety.
ADVANCES IN BLOOD COMPONENT PREPARATION
Donor Apheresis
Apheresis is the process of removing blood from a subject and the desired component is retained while the rest of the blood components are returned to the subject. This procedure is performed using a cell separator machine- apheresis machine. The most common donor apheresis performed is platelet apheresis (single donor platelets or SDP). Red blood cells, plasma, and white blood cells are the other main components that can be collected by apheresis.
Leuco-depleted blood products
Leucodepletion is a process by which leucocytes or white blood cells are removed from the collected blood. Apart from reducing many transfusions related adverse effects, it can also decrease the duration of hospital stays and post-surgical infections in recipients.
Irradiated blood products
These products are useful in a certain category of patients which includes premature babies, immuno-compromised, immuno- deficient, recipients of blood from first /second-degree relatives. Irradiation facilitates the inactivation of donor T lymphocytes by damaging the nuclear DNA and prevents transfusion-associated graft versus host disease.
Washed blood components
Washing enables the removal of plasma proteins which can be an allergen to the recipient. Washed blood products are useful for patients who had repeated allergic transfusion reactions.
Platelet additive solutions (PAS)
PAS is a balanced electrolyte solution intended to store platelets preserving their integrity and functions. They are crystalloid nutrient solution which can be used to store platelets instead of plasma which favours patient safety.
ADVANCES IN TESTING OF DONATED BLOOD
It is mandatory to test all donated blood units for transfusion-transmitted infectious diseases before transfusing to the patients. Over the years, the testing platforms have upgraded from no testing to nucleic acid testing. Rapid cards, Enzyme-Linked Immunosorbent Assay (ELISA), and Chemiluminescence (ChLIA) are the commonly used platforms for this purpose.
Nucleic acid technique (NAT)
This is a molecular technique for screening donated blood to reduce the risk of transfusion-transmitted infections in the recipients, thus providing an additional layer of blood safety. NAT takes care of the dynamics of the window period of various viruses thereby early detection of viruses is possible.
Pathogen inactivation technology (PRT)
It is the technology by which the potential pathogens within the blood and blood products are removed or destroyed using different agents. PRT targets the viral nucleic acid and destroys it.
ADVANCES IN THERAPEUTIC PROCEDURES
Convalescent Plasma (CP)
Until now, there is no specific drug discovered for the treatment of COVID-19. CP is considered an investigational product that can be given on a compassionate background. CP is collected from COVID-19 recovered patients which have passive neutralizing antibodies against the virus.
Platelet-rich plasma (PRP)
In addition to the hemostatic property, platelets are an excellent source of growth factors. PRP is an autologous product involved in tissue regeneration. There are a lot of indications in dermatology and aesthetic surgery, orthopaedics, oral and craniofacial surgeries. PRP is also helpful in healing chronic wounds.
Stem cells
These cells have profound regenerative potential. The role of stem cells in treating different blood cancers is well known. Alternatively, the regenerative ability of stem cells is explored in various clinical settings which includes neurodegeneration, heart diseases, brain and, spinal cord injuries. Recently, dendritic cells and Mesenteric stem cells are gaining much importance in treating various cancers.
ADVANCES IN PATIENT IDENTIFICATION
Radio Frequency Identification (RFID) and barcode system
Wrong blood group transfusions are always heartaches in transfusion settings and hence right patient identification plays a major role in safe transfusion practices. There are various technical modalities like RFID and barcoding which help to negate human-mediated errors in patient identification
Patient blood management
This is a newer concept, an evidence-based bundle of care to optimize patient outcomes by managing and preserving patient blood. The best thing always is having our blood in our own veins.
Point of care testing
Thromboelastography (TEG), Rotational thromboelastometry (ROTEM), and SONOCLOT are various point of care testing devices widely used globally for the controlled release of blood products. They play an important role in promoting the concept of patient blood management.
Dr Sanooja Pinki
Co-ordinator - Department of Transfusion Medicine, KIMSHEALTH