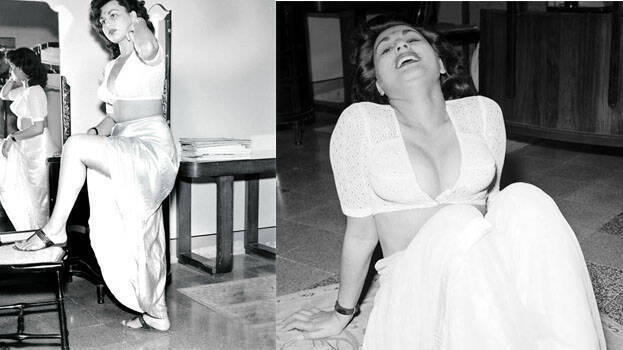 Begum Para was one of Bollywood's most bold and glamorous actresses during the 1950s. She was not only stunning but an excellent actress who starred in films like Neel Kamal (1947), Jharna (1948), and Kar Bhala (1956) amongst others. Her beauty was unparalleled even at that time and she would make men kneel on their knees. Her style and fervour made her a popular style icon and kind of gave her a cult image as well for that time.
While it's no big deal shooting a bold photoshoot today, it was when we go back far back as 1950s. In that era, when actresses were not even known to do hot scenes or wearing any revealing clothes, Begum Para surprised everyone. She took part in a glamorous photoshoot for Life Magazine in 1951 and that changed the mindsets of many conservative Indians.

Besides her bold pictures and photoshoots, we'll tell you a little about her as well. For starters, Bollywood was her family, like LITERALLY!
Begum Para was married to Nasir Khan, Dilip Kumar's brother. Her niece Rukhsana Sultana is Amrita Singh's mother, who is the ex-wife of Saif Ali Khan and also Khushwant Singh's niece.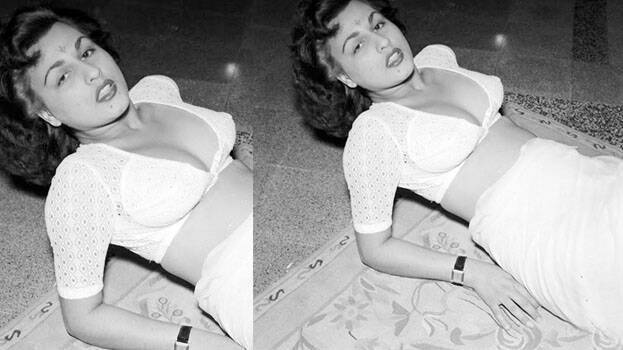 Begum Para was way ahead of her time and widely known for her boldness and her cleavage showing pictures.

Once she said, "I used to hold a glass of whisky openly, unlike other actresses who mixed whisky in colas and pretended that they were teetotallers."
Para was close friends with Nargis, Geeta Bali, Nadira, Shyama and Nilofer. These top actresses used to hang out together on a number of occasions.
She made sure to give some stunning and sultry poses for the Life Magazine photoshoot and wore a white sari and puffed cigarettes.
After this magazine shoot, she became known as Bollywood's first bombsell and pin up girl.
This photo shoot was done by a famous photographer James Burke of that period. He was responsible for those intimate, bold and sensuous photographs of the glamour queen.
These 1951's photographs are very bold even for today's standards! Her last movie role as a leading actress was in Kar Bhala in 1956
But the legendary actress came back on the big screen one last time in Sanjay Leela Bhansali's Saawariya in 2007, as Sonam Kapoor's grandmother.