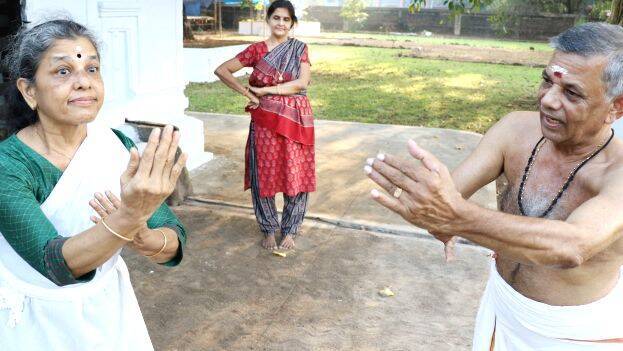 THRISSUR: On her mother's birthday, actress Manju Warrier posted a note that went viral. Her note: 'Happy birthday to my superstar. Mom still amazes and proves it's never too late to start something new in life.'
Manju's mother Girija Madhavan has also practiced Kathakali while studying Mohiniyattam. On Tuesday, she will make her debut at the Peruvanam Temple.
Two years ago, Girija saw a Kathakali presentation by a 70-year-old in the Sargasreelakam training class of Urakam NSS Karayogam. She was studying Mohiniyattam in Thiruvullakavu. When her friend and retd bank official Shailaja Kumar asked her 'shall we learn Kathakali', Girija was initially reluctant but later agreed. Although not far from the seventies, her body was flexible as she practiced Yoga and Mohiniyattam.
Anyway, both of them became disciples of Gopi Asan, who retired as the principal of Iringalakuda Unnayivariar Kalanilayam. Although at first she had leg pain and body aches but forgot it out of the desire to learn.

Meanwhile, Covid played the villain as she had to learn Kathakali online. Preliminary studies were completed in a year and a half. Girija Madhavan will perform as Panchali in the Kalyana Sougandhikam Kathakali at 7 pm as part of the Shivratri celebrations at the Peruvanam Mahadeva Temple under the Cochin Devaswom Board. Shailaja Kumar also makes her debut in the story of Lavanasura.