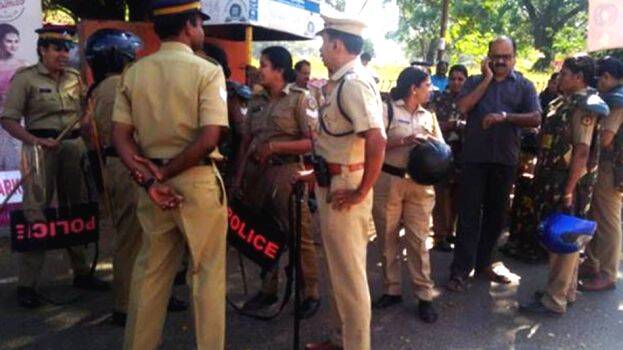 Post-election violence here and there is common factor in Kerala. But that is not the case this time. Violence and violent clashes erupted in many places. After the election, the UDF boycotted the peace meeting to protest against the delay in arresting the culprits in the Panur murder case. Many CPM offices were destroyed in the violence that followed the mourning procession in Panur itself. Conflicts are also taking place in Balussery. A Congress office was set on fire there. Vehicles are destroyed everywhere. Things are moving to a point where the law and order situation is deteriorating. In Thiruvananthapuram, violence erupted on Election Day in Kazhakoottam and later in the Malayinkeezhu. Even a pregnant woman also had to face the attack.
Activists from parties like CPM, BJP, Congress and League are clashing in many places. Apart from this, there are cases where it is suspected that anti-social elements and goons have started rearing their heads in many places. Anti-social elements setting fire to a clothing store in Kozhikode three days ago should be seen as one such incident. The two-storey building, which had eight rooms on the ground floor and an upstairs hall, had all the new clothes inside it. All this points to the failure of law and order.
That is not to say that the police are not intervening. But it is not good if the police force is mired in confusion in taking strict action in connection with the prevention of violence.
It was a tough election. No one can predict who will come to power. As that is the case, low-ranking police officers may be afraid to take drastic action against political activists. But it is high time that the police chief exercise caution. Higher officers need give instructions to the subordinates to make it clear that strict action will be taken wherever violence takes place. Anti-socials will withdraw from the scene and violence will comes down escalate if the perpetrators are arrested, regardless of party affiliation.
Police officers had heavy responsibilities in connection with election duty. Naturally, there may be a shortage of staff to prevent violence and maintain law and order. Many goons have seen this as an opportunity. In addition to maintaining law and order, the police have other responsibilities like controlling corona virus spread. Despite all this, their main responsibility is to protect life and property. If they fail in it, the peace-loving public will have to bear the loss. So police should not forget the main duty of maintaining law and order and other duties. At this stage, they should not forget that the police chiefs are responsible for any flaw in maintaining law and order.
The rule will come and go. Accordingly, the officers are not required to perform the primary duties. Strict measures should be taken by those concerned at this stage to preserve peace for the sake of people. In this case, the police force must show determination to take action against anyone who tries to disrupt law and order, irrespective of their party affiliation.