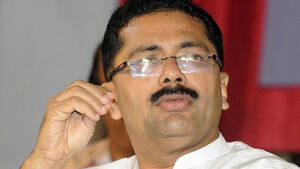 Minister of Higher Education K T Jaleel has been booked on charges of abuse of power, nepotism and breach of oath. Although the Lokayukta 's direction to remove Jalil from office is too late, the public has been waiting for that for a long time. The minister said he would take future action in consultation with legal experts. He also argued that his innocence had already been accepted by the High Court and the Governor. However, the Lokayukta Division Bench has directed the Chief Minister to take action. The state is waiting to see if he will take up the responsibility of continuing to protect someone who has been proven ineligible by law to remain in the ministry. Not only Jaleel but the ruling party also has made it clear that it will approach the apex court against the Lokayukta verdict.
KT Jaleel in his capacity as a Minister tweaked the qualification criteria to appoint his nephew as the General Manager of the Minority Development Finance Corporation. The Lokayukta has now given its verdict on Jaleel's alleged breach of oath and abuse of power. Although the minister's relative withdrew from the post due to controversy, the minister 's illegal interventions in the appointment process came to light. The Lokayukta's inquiry proved this beyond a shadow of a doubt. Based on this, the Lokayukta has submitted a report to the Chief Minister seeking the removal of Jaleel, who is not eligible to continue in the ministry. Although the case has already been concluded, it has been delayed due to a request not to announce the verdict till the Assembly election got over. It was also a great relief to the minister who contested the elections again. As the Lokayukta verdict is not the end of the legal path and is open to the Supreme Court, it is certain that Minister Jaleel will choose the path of legal fight. He has also mentioned it. But it should not be forgotten that there is also morality in politics. The controversy against Minister Jaleel was not limited to nepotism and misuse of power. Many of his actions and decisions as a minister have caused much controversy. Even in the controversy over nepotism, his minister's chair was not lost simply because it received adequate political protection.
In the light of an adverse judgment, it is up to Jaleel to decide whether or not to relinquish power. One should be ready to step down when there is a turning point in contemporary politics where political considerations take precedence over morality. The general tendency in politics is to hold on to power till the end.