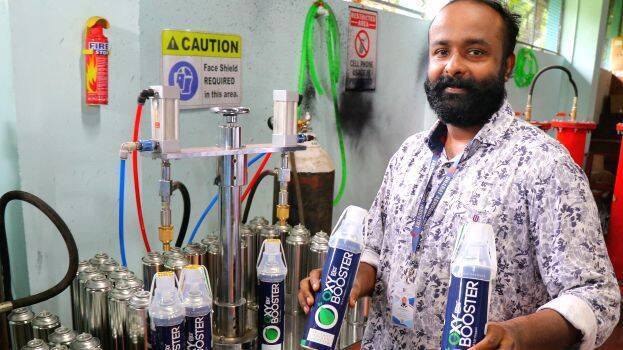 KOLLAM: From now on, one can carry bottled oxygen in a handbag just like how one used to carry bottled water. 'Canned oxygen', which is available in China, is now available locally. Anchal native Jithukrishna (32) is the mastermind behind the project of bottling oxygen to save lives in emergencies. The price of this locally made canned oxygen is nearly 50 percent less than the cost
of foreign-made canned oxygen which is available online.
Jithukrishna, who worked as the purchase manager of a private company in Oman, learnt about aerosol technology when he visited China as part of his job. After returning to Kerala a year ago due to the pandemic, he decided to set up his own plant in the state.
The first pocket can bottling plant in the state started functioning four months ago at Pooyappally Ambalamkunnu. The machine-assisted filling is done from 10-litre medical oxygen cylinders purchased from authorized oxygen supply centers to 150 ml small bottles. After use, it can be refilled like a gas cylinder.
The company was named 'Oxy Booster'. It has received a license from the government. When marketing did not take place on its own, distribution rights were given to the Ayur Mantra in Palakkad. However, the company retained the right to distribute directly to government agencies and voluntary-charitable organizations. Daily production-6,000 bottles (in three shifts).
Jithukumar has received constant support from his wife Meenu, a software engineer who has been with the company since its inception. The couple has two children- Gourikrishna and Nadhinkrishna.
Aerosol technology
It is a method of filling a small bottle with more oxygen. The initial plan was to buy the machine from China. However, this plan was abandoned since repairs cannot be done here. He then bought the machine from a local company through a friend in Mumbai.
Functioning of the bottle
The top cover can be used as a mask. The design is in such a way that oxygen can be received by pressing the knob with the lid. A person can take in a maximum of 225 breaths using a single bottle. This can be done continuously or intermittently as per requirement.
Rs 30 lakhs- Plant construction cost including machine
Rs 650 - Price of a bottle of pocket oxygen (manufacturing cost Rs. 400)
Rs 1500-Price of Chinese bottle oxygen available online