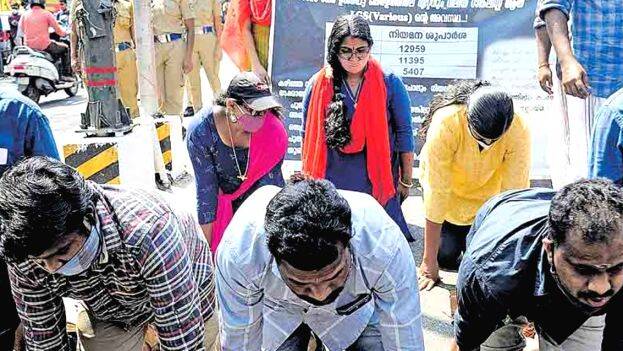 Last grade candidates who had stopped their strike months ago have started an indefinite strike in the Secretariat again. Despite the threat of disease during this Covid times, they are struggling in the streets because the problem they are facing is serious. Earlier, they had been on strike for 36 days. That was before the election. So the government hurriedly held a discussion led by the then minister A.K Balan .At that time, six assurances were given, including that promotions could be given to create vacancies to fill. Once again, the Left Front government itself came to power but did not keep any of the promises made to the candidates. The list is only a week away from expiration. They have come up with a begging struggle without any other course.
At the same time, candidates allege that there is a move to appoint temporary staff in various departments in anticipation of the expiration of 493 PSC rank lists on August 4. They allege that the non-reporting of vacancies was deliberate and that the department heads did not report vacancies in a timely manner to create opportunities for temporary staff. Of these, the Civil Supplies Corporation employs the largest number of temporary workers. There it is alleged that about 5000 employees are working in Assistant Salesman Category.
So far, only 1635 people have received advice memos from the existing rank list in 14 districts. The respective governments will have to hire a fixed percentage of temporary employees for political reasons. It should never exceed the number of permanent employees. The government should impose a fixed percentage limit on the appointment of temporary staff in any department. If not, there is no way for those on the rank list to get a job. Appearance in the rank list is not based on political influence. They are the ones who come up after studying and passing exams using their proficiency. Hiring only temporary people will significantly affect the quality of the job. It is Herculean task to make it to the top of the rankings these days. Allowing the list to expire without appointing them is complete injustice. They have to suffer because they don't have any political influence. The authorities should not take the view that all protesters are against the government. Either take action to make maximum recruit as it is an assurance given earlier to government employees. If it is not possible within a week, the government should show the goodwill to extend the last grade list for six months more as there is no other rank list. It is inhumane to leave them to lie on the streets and beg during this Covid times.