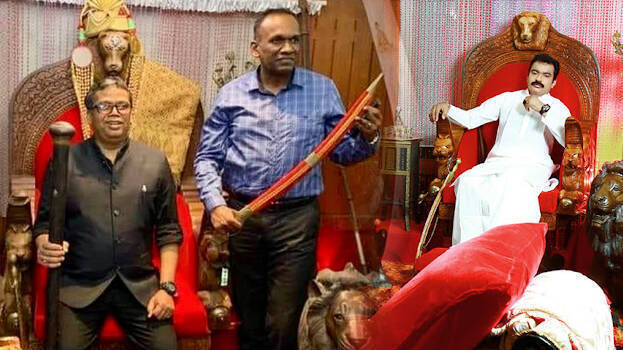 For the past few days the much talked about issue in Kerala is about the fraudster Monson Mavunkal. He was arrested in a case of swindling crores of rupees from several people by showing counterfeit antiques. The evidence of many including top officials visiting his house in Kochi are being surfaced. However, Monson, who has been cheating for years, was arrested in a hurry on the day of his daughter's engagement. BJP leader K S Radhakrishnan is asking the reason behind it. He alleged in a Facebook post that some huge whales have been trapped in Monson's net and that the current police drama is to save them.
Full text of the post
To save whom did the Kerala Police hastily arrest Monson on his daughter's engagement day? It is hard to believe that the police did this to enforce justice. The explanation that the act was as per the directive of the chief minister is not credible. It is unbelievable that the chief minister in charge of the state for the last six years did not know about such a huge scam.
The things known to police cropped up now may be because of Monson's threat or some big whales may have been trapped in his net. The present drama of the police may be to destroy the evidence against them.

Malayalees have a mind to fall victim to fraud. Reason because Malayalees want to become rich without hardworking. The Malayalee imagines that a job without work is a glorious job. Therefore, Malayalees are constantly subjected to fraud. Even Gandhians do not remember that making money without work is a sin.
Laballa Rajan, Orient Sajan, Goat, Teak and Manchium, Popular finance and Monsoon brand archaeology are all works of this attitude of the Malayalees.
Brokerage in real estate is a field of employment developed by the Malayalee youth on their own. Local leaders of youth organizations of political parties also excelled in brokerage work. They found that money is God. Senior political leaders placed their hands on the heads of young leaders who made money and blessed them. Jesus said that your heart is where your wealth is. Many priests invested their hearts in money. That is why they used the church newspaper itself to glorify Monson.
When Monson said that he has a bank balance of Rs 2.62 core attained through his antique business, they did not hesitate to believe and spread it. The leaders of the society with their cooperation, joined hands in this scam. From KPCC president K Sudhakaran to former police chief Lokanath Behra and DGP Manoj Abraham also acted and played their part as Monson said.