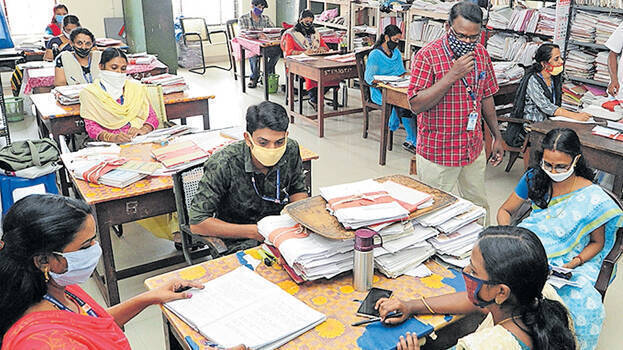 The government's decision to look into the background of new employees in government-paid institutions is all the more welcome these days when frauds and criminals are on the rise. The decision comes as the shortcomings of not having such a system are now more noticeable. Police verifications exist in appointments made through PSC in government departments. It has been proposed to make police verification mandatory for appointments in aided educational institutions, public sector institutions, co-operative institutions, welfare boards, development authorities and Devaswom boards.
In addition to the commitment towards the government and society, employees of such institutions who are paid with money from the public treasury should have accountability. Final approval to remain in service will be based on the police investigation report produced within one month of the appointment. If serious information is noticed during the police verification, the employee will have to leave the service. The employee will also face serious repercussions if he/she conceals any facts. In short, a permanent appointment will be made only after ensuring the character of the employee who joins any government paid job. The new arrangement is expected to be different from the impolite police verification that existed decades ago. At that time, many people were denied government jobs because of their communist affiliation. Several teachers were also fired.
Police verification is being made mandatory for appointments to aided educational institutions based on the conviction that many of those who join as teachers and non-teachers have criminal backgrounds. Nowadays, money and influence alone are enough to get a job in aided institutions. This has been the case ever since the managements started hiring those who were willing to pay as much as they demanded. Political influence can be a major factor in the recruitment of such persons as those employed in aided educational institutions are not barred from political activities. The government has received confidential reports which claimed that accused in criminal cases, including sexual abuse cases, are working as teachers in various schools.
An affidavit stating the applicant's previous history is mandatory when applying for any job that is paid by the government. The fact that the government does not currently have any direct control over appointments in educational institutions is a big mistake. The new move to ensure at least the character dignity of the appointees is welcome as the demand to leave the aided teaching appointments to the PSC is unlikely to be accepted anyway. There have been several shocking incidents coming out of schools in recent times. What makes the situation worse is the protection that criminals receive from political parties. Political parties must take responsibility to ensure that those who are not fit to be teachers do not remain in that position.