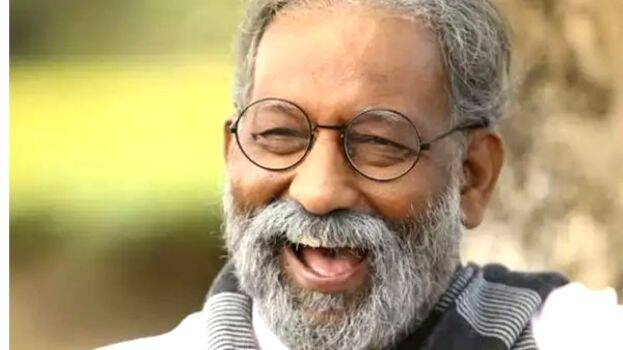 Veteran late actor Nedumudi Venu made his debut in Malayalam cinema by shattering the notion that the most important quality of an actor is beauty. His various roles not only exposed the wonders of the acting world but also shaped Venu's transformation into one of the greatest actors of all time in Indian cinema. He deftly handled journalism, drama, music and cinema. The loss brought by his death is indescribable.
Venu was born and brought up in the heart of Kuttanad. Inspired by the scent of the soil, fields and country roads and the melody of folk songs, Venu had examples from life experiences to cultivate many characters. Venu had said that he was born in a village like Nedumudi and was the son of a father who was proud to see his son as an artiste and a mother who gave his father all the support.

It is still unclear why Venu, who has won state awards for best actor, missed the national award for best actor. Venu never bothered to mention it as he had the highest award in the form of public recognition that an artiste deserves. Apart from Malayalam, he also played notable roles in Tamil. Lastly, in Rajiv Menon's Sarvam Thalamayam, the character of Vembu Iyer, which is reminiscent of Mridangavidtvan Umayalpuram Sivaraman, should not go unmentioned.
Apart from acting, Venu has written the story and screenplay for cinema and had worn the director's cap. Venu had acted in a number of contemporary and commercial films and is one of the most outstanding actors in the South Indian film and theatre industry. The characters played by Nedumudi Venu are made magical by the magical power of 'parakaya praveshan.'
Nedumudi Venu passed away at a private hospital in Thiruvananthapuram on Monday morning. He was 73. On Sunday reports came that he had been admitted to the ICU after his health condition turned critical. Earlier he had complained of extreme fatigue and exhaustion. He had been undergoing treatment for stomach related ailments and that is said to be cause of his death. The actor had also tested positive for COVID-19 recently. Nedumudi Venu, one of the prolific actors in Malayalam, had acted in over 500 movies. He won three National Awards in various categories for his performances in movies such as His Highness Abdullah, Margam and Minukku. He was also conferred six Kerala State Film Awards, including the Best Actor for Vidaparyum Munpe, Oru Minnaminunginte Nurunguvettam and Margam. He had also won three national awards. The actor was last seen in the Netflix anthology Navarasa in which he had acted in Priyadarshan's segment Summer of '92. He was also part of the anthology Aanum Pennum, co-starring with Kaviyoor Ponnamma in the segment Rani directed by Aashiq Abu, and Yuvam – both of which released in theatres and are currently available on OTTs. Nedumidi Venu debuted through the movie Thampu, directed by G Aravindan in 1978. He had also scripted films such as Theertham and Savidham and directed Pooram. He had also acted in several hit Tamil movies including Indian, Anniyan and Sarvam Thaala Mayam. The veteran actor's upcoming movies include Marakkar: Arabikadalinte Simham in which he will be seen teaming up once again with Priyadarshan and Mohanlal. Kesavan Venugopal was his original name. He was the youngest of the five children of P. K. Kesavan Nair, a school master and P. Kunjikkuttiyamma at Nedumudi in the Alappuzha district of Kerala. He had been involved in art and music since his academic period. After graduating from S. D. College, Alappuzha, he worked as a teacher in a tutorial institute. Venu was living in Thiruvananthapuram when he made friends with the likes of Aravindan, Padmarajan and Bharath Gopi. This ultimately paved the way for his film career. He was a talented Mridangam player as well. His spouse is T R Susheela; Unni and Kanna are their sons.
Nedumudi is a complete artiste by birth. Nedumudi Venu can be replaced with Nedumudi Venu only. For us, he is a member of the Kerala Kaumudi family. We bow before the eternal memories of our dear colleague and share the grief of the bereaved family and friends.