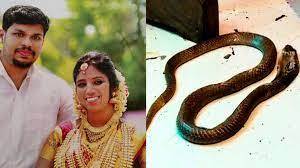 Courts decide cases on the basis of facts, evidence and trial. In some cases, even if the investigating officers are 100% sure who is guilty, the accused may escape due to inconsistencies in the facts to be proved. The police officers and the prosecution team that investigated the unparalleled Uthra murder case are commendable. The court has found beyond a doubt that Suraj's husband was guilty of brutally killing Uthra by biting him with a cobra. The punishment for Sooraj will be known on October 13. The then Kottayam SP Harishankar's complex investigation outsmarted film stories and has no precedent in the history of police investigations. In the absence of eyewitnesses and other direct evidence, the police conducted an investigation combining scientific and circumstantial evidence. Most importantly, he learned how the accused in similar cases in Nagpur and Pune escaped unpunished. In those cases, the accused escaped because they could not convince the court that the death was a snake bite. In this case another cobra was used for the experiment. The snake was made to bite on the chicken. Police were able to confirm that the difference between the teeth on the body after force snake bite was 2.4 cm and that the distance between the bite spots on Uthra's body was the same.
Kaumudi TV's most popular show 'Snake Master' has played a significant role in proving the case.
The day after Uthra was killed, Vava Suresh and his team reached Anchal for the shooting. Vava came to know that the young woman, who had been bitten by a snake earlier, died after being bitten by a cobra. Vava Suresh had said in Snake Master that it was not possible for this to happen naturally. The court also took that into account.
In the context of his experience, Vava Suresh made it clear that a cobra's or other snake bite can cause severe pain and she might have got bitten under some sedation.To make this clear, he later went to Utra's house and did a special event for the Snake Master. Kaumudi TV was the first to tell the world that there was no trace of a snake crawling in the room and that what happened was murder. This episode of Snake Master became a guide for the investigation team. That is what prompted the prosecution to turn the experienced Vava into a witness in the case. It also helps to prevent a recurrence of such an incident. The moves and studies made by the investigating officers in the Uthra murder case and the collection of evidence in a scientific way should be a lesson to all investigation teams. This is because it is a rare case wherein the accused is going to be punished based on only circumstantial evidence.