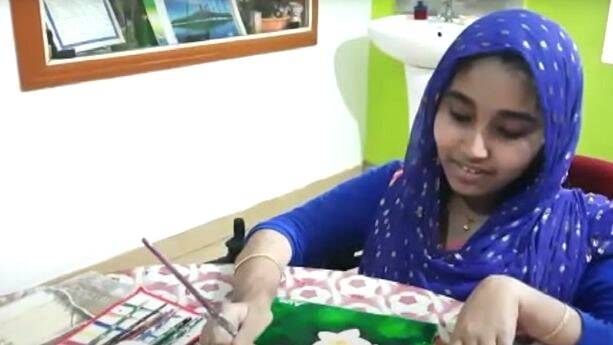 THRISSUR: Differently-abled Asna creates wonders using colours with an unflinching determination and untiring mind. She is the winner of the Ujjwala Balyam Award.
KS Asna Sherin won this state award instituted for differently-abled between the age group of 12 and 18. The Women and Child Welfare Department has instituted the Ujwala Balayam Award for the differently-abled. Asna was selected by a committee headed by the District Collector. A native of Mala in Thrissur and the eldest daughter of Meladoor Kuttimakkal Shiyad and Aneesa, Asna is a 10th class student of Government Samiti Higher Secondary School.

Asna Sherin, who suffers from muscular atrophy, has already undergone several surgeries to sustain her life. This clever girl churns out artistic pieces defeating her physical debilities and the art works that fill her house bore testimony to this.
Today there is no sign of pain or severity of the disease on her smiling face. Because her mind is immersed in the big world of colours.
Bottle art and glass painting are her main works. She has already brought out about two hundred such artworks. Old bottles, old paper etc are cleaned and used for the purpose.
Paintings are done using acrylic paint and coffee powder. Asna paints with a sponge instead of a brush. Asna's hand cannot keep pace with her mind as she has lost mobility below her waist.
It is with great difficulty and patience that she has produced so many paintings and sculptures. She also uses tips from the internet.
Asna Sher was diagnosed with the disease at the age of one and a half. Mother Aneesa, who was a librarian, later quit her job to take care of her child and her treatment.
It seems that there is hardly any effective medicine to treat this disease that weakens muscles.
She underwent surgery two and a half years ago when she started developing a spine curve.