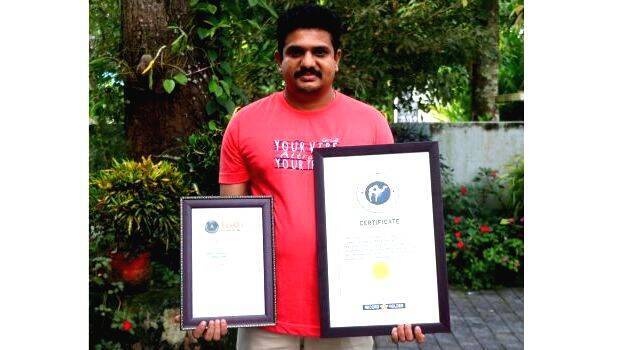 ALAPPUZHA: There is a mechanical engineer in Alappuzha who does not need a calculator or a computer to tell the product of numbers up to one lakh. 31 - year - old Vivek Raj, who loved mathematics, has two records for his superfast performance.
For adding two numbers 19 times in a row in ten consecutive times till a seven-digit number (for example: 78 + 78 = 156, 156 + 156 = 312, 312 + 312 = 624, ...) and multiplying any number in 15 seconds to reach at 11 digit number. It is listed in the India Book of Records and the Limca Book of Records.
He holds the Asian record for the fastest addition of double-digit numbers in a row and the Arabian Book of Records for the fastest min calculation.
Through 17 years of hard work, Vivek has achieved this feat through the 'Mental Maths' technique (Mental Maths or Mental Mathematics is the calculation in mind without the use of pens and paper).
Vivek Raj, the son of retired teachers PC Raphael and Anikutty of Puthenpurakkal house in Arattuvazhi, came to a different path of mathematics when he was in 7th class by adding and multiplying vehicle numbers. Square root and cube root quickly got into his mind. His grandfather Varkey Pillai, a former soldier, had mastered this art.
Vivek's role model is Scott Flansburg, an American Guinness World Record holder known as the human calculator for lightning speed in mental calculation.
Math Magic Show
Man v / s Machine challenge is a competition with a calculator. One has to beat the calculator by answering the audience's questions on stage. Through this show, children can change their fear of math. As it is the pandemic period, the show has been hosted online in countries including the United States. The goal is to generate a steady income through this. With the help of AM Arif MP, an effort is being made with the Department of Education to pass on this mathematical formula to children. The project has been handed over to the Department of Education.