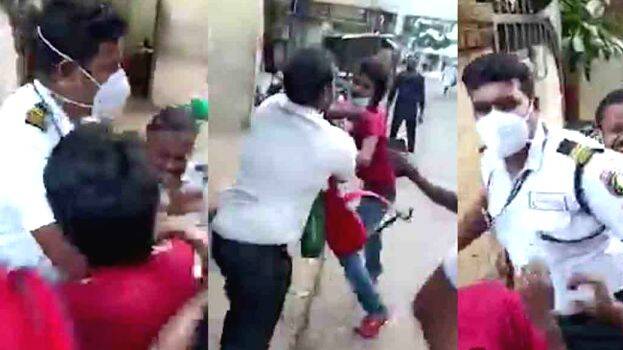 Clashes and clashes between patients and security personnel at big government hospitals, including medical colleges, are not new. Because of the tainted security arrangements in the hospitals, the security personnel have to be hoodwinked or influenced by the general public to enter inside. Passes are issued to patients' companions to let them visit during non-visiting hours. The brutal harassment of a young man named Arundev by his security guards at the Thiruvananthapuram Medical College Hospital whose grandmother was admitted has become a hot topic of discussion. Security personnel snatched the pass from the young man and beat him up. No one is saying that the provocation was due to the youth. The security guards try to "stop" anyone who tries to disobey them, as they are contract employees hired from private security firms and have no responsibilities or obligations towards anyone.
As part of the government's cost-cutting policy, medical college hospitals, district hospitals and many other service areas now outsource security staff from the contract sector. Once the contract is awarded to the private agencies, they will take care of matters including salaries. All you have to do is to pay the contract money to the company. If there is a complaint about the service of this contract employee, it won't be considered as none of the government service-pay provisions apply.
It is a good thing that Health Minister Veena George on Sunday directed those concerned to put the security personnel of the medical college under direct charge of the hospital authorities. This system will help to ensure accountability and prevent clashes between security personnel and hospital visitors. This approach can be adopted by all government hospitals that employ people from private security firms. In institutions like medical colleges, it takes a long time to understand the dangers of keeping irresponsible people as security guards. Police have registered a case against three security personnel involved in the recent incident.
Arguments and occasional clashes between staff and patients at government hospitals, which are crowded every day, are common.
The general attitude of the visitors to government hospitals seems to be that there is no need for rules and regulations there. This needs to change. Lack of law and order leads to conflicts. Outside relatives will naturally experience increased anxiety and pain when their loved ones are lying in the wards. You may need to go inside in case of emergency. Security personnel should be able to act discreetly in such situations. In any case, it would be better to conduct frequent training classes for the security personnel in the hospitals.