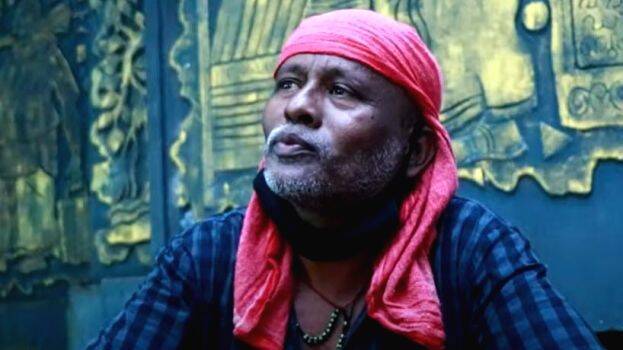 KOZHIKODE: Babu Bhai's that much-awaited programme will be held in Kuwait next month but now he is on Kerala's Kozhikode Mittayi Theruvu. Though both places are equally comfortable for him to perform, Mittayi Theruvu is sweeter. However, this street singer and his family are getting ready to fly abroad once again from Kozhikode.
Perhaps, there won't be anyone in the city who does not know Bahubhai. There won't also be Malayalis in other parts of the world who have never heard Babubhai's song.
The people of Kozhikode have been listening to Babubhai singing to the accompaniment of his wife Latha for the last 50 years.

Mittayi Theruvu, Moffusil stand and the railway station are their regular venues. Those who happened to see and hear them singing started taking them to different corners of Kerala for singing.
He sang abroad twice. Once in Qatar and once in Sharjah. It was like a dream for the couple.
Two days ago Babubhai returned to Mittayi Theruvu after almost two year's Covid-induced break.
Again the melodious strains of Muhammad Rafi, Mannade, Kumarsanu and Baburaj started filling the air.
Babubhai's family migrated to Kozhikode from Ahmedabad in Gujarat. His father is Shankar and mother Kasturi. Babu was born at Kallai in Kozhikode. All three brothers were with him. The elder brother died. Brothers Dileep and Ravi are still with him. In between, he married his mother's uncle's daughter Latha. Latha is the link that connects this family with Gujarat. Latha is the harmonist in his music troupe. In 2011, he got a house on the initiative of former MLA VKC Mammad Koya who had become a fan of Babubhai. Until then, this talented singer used to wander through the street day and night. Anil, the eldest of three children, now works in a shoe store. An expatriate Malayalee who saw Babubhai's programme in Sharjah offered him a job there. The other two children Sunil and Kausalya are students.
It was three years ago, they got the opportunity for the Gulf trip, which they had not even dreamt of. The first trip was from Vadakara and was organised by the organisation 'Karuna' Qatar in Qatar.
Sharja-based organisation Gramam UAE also later invited him to Kuwait after coming to know about Qatar programme. But corona pandemic came in the way. This street singer is now again preparing for another foreign tour with his family. Once he gets the green signal from organisers in Kuwait, he will fly off.
"Everything is happening as if in a dream. We started by singing on the street to satiate hunger. But when more fortunes befall us, who we thank is only Kozhikode, said an emotional Babibhai with folded hands.