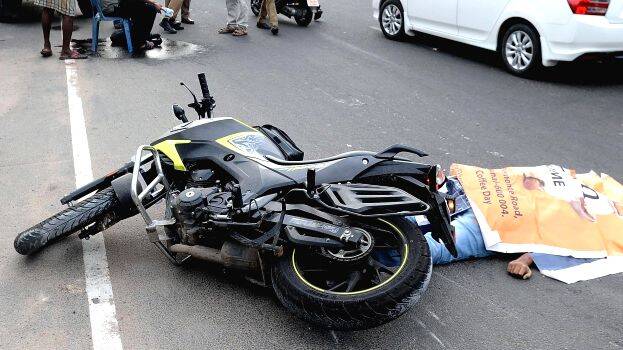 Unrestrained vehicles are creating blood flow in the streets of Kerala. In between, steps were being taken to ensure that traffic rules were followed. Now everything looks loose. The state, which has about 1.5 crore vehicles, needs specialized departments and officials for regulating traffic. But it also becomes the responsibility of the local police. Traffic police are only available in urban areas to control traffic. Elsewhere, the local police are in charge. They are also the ones who have to take further action in case of road accidents. It is said that there is camera surveillance along the road. But in the event of an accident on the streets or if the vehicle involved in the accident does not stop, the police will rely on private cameras installed at roadside establishments. Accidents involving high speeding are on the rise all over the state. Despite the increase in violations, no significant steps are being taken to control traffic.
The incident in which three minors were killed in a bike accident at Vazhayila in Thiruvananthapuram on Tuesday reminds the government once again of the need to tighten traffic rules. Elderly people who were not even eligible to get a driving license were killed on the road in an instant. Even though riding a bike with three people is punishable, the children will be instinctively excited as they prepare for the adventure. There was no one to turn them away from it. Violations like this can be found everywhere.
Two-wheelers and pedestrians are always prone to speeding by large motorists. Reckless driving always invites accidents. A scooter passenger was killed on Tuesday when a concrete mixing machine he was towing behind a jeep overturned in Thiruvananthapuram district. The jeep overturned at an excessive speed, which led to the accident. Everywhere you look today, the tide of protectionist sentiment is flowing. Two-wheeled vehicles carrying huge ladders and vehicles carrying wires and pipes for meters behind are a common sight. Driving under the influence of alcohol and other intoxicants is not uncommon. The number of people fleeing after vehicles without stopping after the accident is also increasing.
In Thrissur district, an ASI rammed a couple on a bike while driving under the influence of alcohol. The locals chased him and arrested him and handed him over to the police. Two days ago, two youths were involved in a drunken driving accident in Venjaramoodu, a suburb of the capital district. In the accident, one of the front tyres of the car came off completely and continued for miles without stopping. In this incident too, the locals finally came together and stopped the car. The law should be amended to permanently revoke the licenses of such offenders who cause harm to other vehicles and people on the roads. Arrangements should be made to catch traffic offenders across the state.