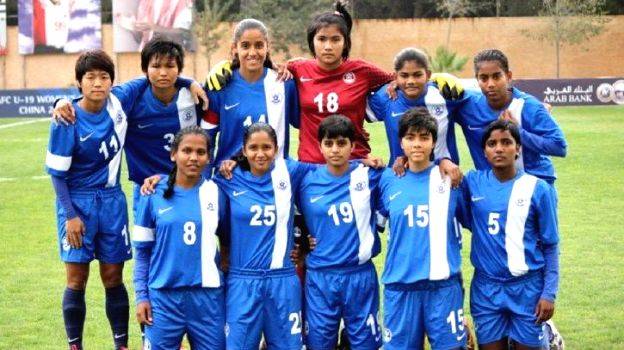 NEW DELHI: The Indian team will look to get back to winning ways when it takes on Thailand in the AFC U-19 Women's Championship Qualifiers here Sunday.
India suffered a shocking 0-2 defeat at the hands of Nepal in their previous game.
Despite the fact that the players are disappointed after the loss, head coach Alex Ambrose was optimistic, saying that the girls can learn a lot from such matches.
"They are not too happy about the result yesterday. But again, it's all about the exposure that they get, at this age," said Ambrose.
"It was a tough game, but they will learn from mistakes like these."
"They have to believe in themselves. Playing international teams is important for the players. The more they play, the better they get," he continued.
"That's where implementing the things on the pitch begins. Once they do that, the results will automatically come."
Currently, Thailand stand at the top of the group with six points from two games, followed by Nepal and India, who have three points from two matches. However, Nepal are ahead by virtue of the head-to-head rule.
As things stand, India need to win against Thailand and hope that Nepal do not beat Pakistan by more than 17 goals.
Other scenarios in which India can make it through to the second round of qualifiers are if Pakistan beat Nepal and India get at least a point against Thailand, or if Pakistan versus Nepal ends in a draw, India need to beat Thailand.
Although Thailand are the more fancied team in the group, Ambrose is hopeful that his girls can implement his strategies and get the desired result against the hosts.
"We will try our best and fight against Thailand. I've seen Thailand play, they are a wonderful team. They have some really technical and strong individual players. We will take every opportunity that comes our way and try to win it," he said.
"There's always a chance (to qualify). The girls need to understand that and go all out to take that chance. If we can perform tomorrow, I'm sure we can get the desired result," Ambrose signed off.