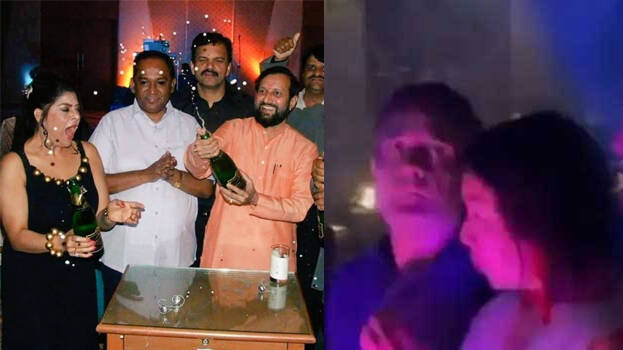 NEW DELHI: The Congress on Monday lashed out at the BJP over the release of a video of Rahul Gandhi celebrating with a friend in a pub in Kathmandu, Nepal. Youth Congress National President BV Srinivas has released a picture of BJP leader, Rajya Sabha member and former Union Minister Prakash Javadekar popping a champagne bottle at a party. He posted the picture on Twitter under the headline "Identify who?"
After Rahul Gandhi's picture and video went viral, BJP leaders had asked the Congress where the party leader was during the communal clashes in Rajasthan. Many BJP leaders says that Rahul was in parties during the riots in Delhi and during the issues within the party. 'Rahul Gandhi was at a nightclub when Mumbai was under seize. He is at a nightclub at a time when his party is exploding. He is consistent.', says BJP IT cell head Ajit Malviya.
The Congress soon retorted that it was not wrong to go to a friendly country to attend a friend's wedding. The Congress has claimed that Rahul's visit to Nepal to attend his friend's wedding is not as problematic as Prime Minister Modi's visit to Pakistan to attend Nawaz Sharif's daughter's wedding. Within hours of the Congress' criticism of Modi's visit to Germany, a video of Rahul visiting a pub in Nepal went viral.