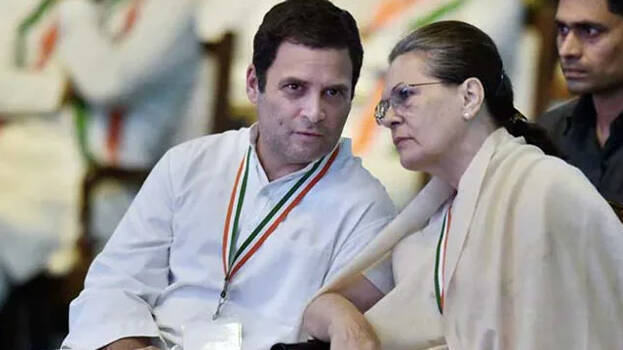 NEW DELHI: The Congress on Sunday took a number of bold decisions to strengthen the party ahead of the 2024 Lok Sabha elections. It said that half of its tickets will be given to people below 50 years of age. The decisions were taken as part of the Udaipur Declaration adopted at the end of the Chintan Shivir in Udaipur.
It decided to set up a national-level training institute to train leaders. In addition to what the Congress is and what the methods of the party are, the ideas of the Congress will be taught to the leaders at the institute. Sonia Gandhi said the institute would be a platform for all Congress leaders to learn about the party.
The Congress Working Committee, which gave approval to the 'one family, one ticket' rule, added a caveat that family members of Congress leaders who aspire to contest elections should have worked for the party for at least five years.
Apart from this, Congress will launch Bharat Jodo Yatra from Kashmir to Kanyakumari under the slogan of uniting the country. Sonia Gandhi said that the march, which will begin on October 2, Mahatma Gandhi's birthday, will travel across the country to try to understand the sentiments of the people.
It was decided that 50 per cent of the office-bearers in all the committees in the Congress from the booth to the working committee should be below 50 years of age.
The working committee did not approve 50 percent reservation for Scheduled Castes, OBCs and Minorities in the committees. Maximum representation of these categories will be ensured. No change of leadership decisions was announced.
Election committees will be formed at the national level to further strengthen the party in the elections. This committee will be the one to decide on matters related to future elections. In addition, an advisory committee will be set up to advise the national president. Political affairs committees will be set up at the national and state levels.
OBC reservation hoarded
The important recommendations of Salman Khurshid's Social Justice Subcommittee were not considered due to differences of opinion among members of the Working Committee. Some of the recommendations of the subcommittee are 50 per cent reservation for Scheduled Castes, OBCs and Minorities from Booth to Working Committees, OBC reservation in Assembly and Parliamentary seats, Caste Census, reservation for Scheduled Castes, OBCs and Minorities in the private sector.
Instead, equal representation of Dalits, Adivasis, Backward Classes, Minorities and Women will be ensured. The party will speak out against discrimination against these sections.